Vitamin C is one of the most suitable ingredients that offers abundant benefits to the skin. Among these considerable benefits are its antioxidant, anti-inflammatory, and brightening properties. Some studies even back up that vitamin c skincare helps with collagen production and maintaining healthy skin cells. If you like to discover more about why vitamin C should be your starting private label skincare products, read more below!
What exactly is Vitamin C?
Vitamin C is an innately occurring vitamin found in the layers of the skin. This fantastic ingredient has various properties that make the skin healthy and youthful. It is also the primary cofactor that pushes collagen production and skin barrier protection.
What is the Function of Vitamin C?
Vitamin c is a one-stop solution for skin issues. It is a versatile product that assists in protecting the skin and maintaining the cells. When this ingredient is applied directly onto the skin, it can work wonders and make a big difference.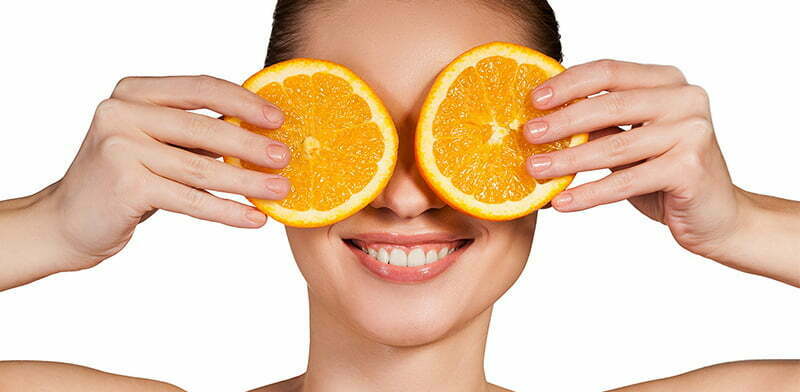 The Reason Why Vitamin C is a Trending Product in Private Label Skincare
Skincare specialists and dermatologists approve that vitamin c plays a massive role as a crucial ingredient for skincare. These reasons pique your interest in private label skincare that highlights vitamin C ingredients. Therefore, we have listed more reasons for your in-depth understanding of the benefits of vitamin C.
Strong UV Protection
Surprisingly, vitamin c makes a significant difference in safeguarding the skin from harsh UV rays. This ingredient stops sun damage to the skin by reducing the free radicals. That is why this is not a replacement for sunscreen or SPF.
Boots Hydration
When the skin looks dull, maybe one of its causes is the lack of hydration on the skin. When this happens, the skin needs a skincare product that is hydrating and moisturizing. It is one of the roles of vitamin c skin care products; it hydrates the skin by penetrating its deep layers. Through this process, the skin will reduce transepidermal water loss (TEWL) and retain hydration.
Lessen The Skin Issues Caused By Aging
Reversing the effects caused by aging on the skin is among the best benefits of vitamin c in skin care. This component helps regulates collagen production, which increases its synthesis. This collagen synthesis promotes the production of more collagen, which repairs, restore, and hydrate damaged skin.
Promotes Collagen Production
One naturally occurring element on the skin is collagen, which depletes over time as people age. When the collagen level is low, it can lead to various skin aging issues like fine lines, sagging, and wrinkles. Vitamin C is an effective ingredient that aids in collagen synthesis. This ingredient is necessary for this process since it serves as the cofactor for the enzymes (prolyl and lysyl hydroxylase).
Protection from Pollution
When dirt, fine dust, and other pollutants stay on the skin for an extended period, it lessens vitamin C and collagen production. When both of these elements are low, there is a higher chance that it can lead to the skin aging fast and accumulating various issues. That is why topical vitamin c skin care products are an excellent idea to safeguard the skin from pollutants.
Helps Heal Wounds
There are instances where common skin issues and diseases can cause wounds that can leave marks on the skin, especially on the face area. Vitamin C. Vitamin C increases collagen synthesis, which plays a huge role in skin repair and wound healing, one of the ways to speed up recovery and avoid any scarring. That is why when consumers often apply vitamin c skin care products to the skin; there is less chance of inflammation, redness, and even infection.
Lessen Hyperpigmentation
Vitamin C is among the most effective ingredients in private label skincare products in fading hyperpigmentation. The cause of this hyperpigmentation is age spots, sun damage, etc. It can also transpire in the affected areas caused by acne. That is why vitamin c works by inhibiting melanin production by reducing the enzyme activity—tyrosinase.
Even Out the Skin Complexion
One of the properties notable of vitamin C is anti-inflammatory, which helps calms your skin from redness, puffiness, and free radicals. When this product reduces these skin issues, you can allow your face to shine and have an even skin tone.
Makes Eye Bags Less Visible
There are numerous benefits of vitamin c in skincare products, especially in the undereye areas. Vitamin C helps the skin to be plump and hydrated. It is also a big help in smoothing out fine lines, redness, and discoloration.
Gentle on the Skin
Vitamin C is one of the ingredients that are super gentle on the skin. When the formulation of this ingredient is with the right concentration, it will also not strip the skin's layers, which is why they are perfect for all ages.
Vitamin C Pairing to Target Varieties of Skin Issues
In private label skin care products, vitamin C is one of the most versatile ingredients we can pair with other ingredients. Some of the best pairings you can check out are:
Extra Hydration
One of the best skincare ingredient pairing to target skin dehydration and moisture loss is vitamin c and hyaluronic acid. These skincare ingredients, when formulated, can become more potent and effective. That is why they are ideal formulations for hydration and anti-aging.
UV and Free-radical Protection
Vitamin c combined with vitamin e is one of the best skincare ingredient pairs manufacturers can formulate. Both of these ingredients attain antioxidant properties that make them more potent in preventing the skin from free radicals and photodamage.
Texture and Hyperpigmentation
Vitamin C can be mixed with AHA under a specific concentration when addressing skin issues like texture and hyperpigmentation. Both vitamin c andAHA may have an acidic pH, so formulators need to increase the PH level. This way, the product can smoothen the skin without causing any redness or irritation.
Anti-aging
Among the potent skincare ingredient formulations for anti-aging issues are vitamin c and retinol. Studies show that these two ingredients can reduce wrinkles and fine lines, fade dark pots, and boost collagen production. Both of these also play their roles in one skincare product: Vitamin C (collagen production) and retinol (renewing skin cells).
Wrinkles and Fine Lines
Both wrinkles and fine lines are associated with the effects of aging. That is why private label skincare ingredients needed to target this issue is also retinol. Vitamin c and retinol are used as a treatment for these skin issues because it is potent and can infiltrate deep into the skin layers.
Firmer and Brighter Complexion
For vitamin c skin care products focused on skin tightening and brightening, skincare experts should add niacinamide to the formulation. Both vitamin c and niacinamide are brightening ingredients, so they play a part in reducing the melanin synthesis on the skin, which causes skin discoloration.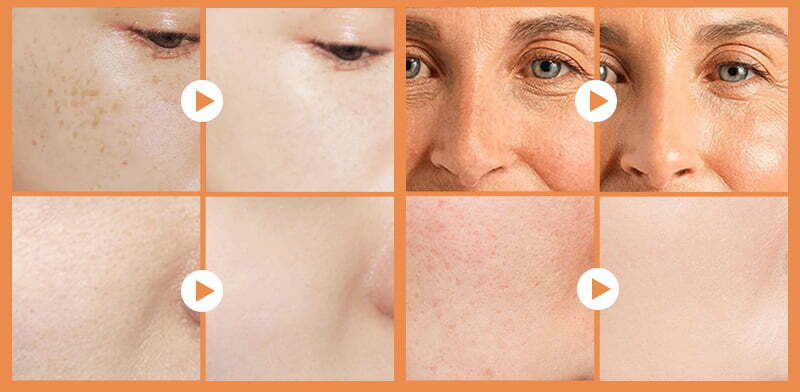 Lists of Private Label Vitamin C products Available at TY OEM Cosmetics
We have mentioned how versatile vitamin c ingredients are, especially in skincare products. We can incorporate it in anything—may it be topically, orally, name it! If you are gearing towards starting vitamin c skin care products, you can check our lines below:
Vitamin C Serums
A number one vitamin c product popular in the skincare market is vitamin C serums. These serums are in a liquid consistency that is a big help in penetrating even the deepest layers of skin quickly. For this reason, it can work better in collagen production.
Vitamin C Oil
Vitamin c serums are similar to vitamin c oil but differ in consistency and workability. Vitamin c oils are more moisturizing and can penetrate the layers of the skin. It also serves as a lock that seals your face from any trans-epidermal water loss.
Vitamin C Sheet Mask
A Vitamin C sheet mask works wonders on the skin. This product is in contact with the skin for at least 30 minutes, and during that time, the skin can get a slew of benefits. Most manufacturers design this product to promote dewy, glowing skin by removing dead skin cells.
Vitamin C Facial Cream
Facial cream has a thicker consistency that can lock all the skincare products on the skin. This product would be helpful when we add vitamin c ingredients to the formulation. Vitamin c facial cream is suitable for making the skin brighter and smoother. It also helps slow skin aging and shields the skin from harsh UV rays.
Vitamin C Facial Lotion
Vitamin c facial lotion is also similar to facial cream but with a more runny consistency. Because of its formulation, it can be absorbed by the skin better and faster. This ingredient would also make the product more effective in combating free radicals, sun damage, signs of aging, etc.
Vitamin C Facial Cleanser
One of the most effective skincare product applications of vitamin c is through facial cleanser. Vitamin c cleansers don't only function in keeping the skin clean but also prevent, reduce, and fight various skin issues. This product effectively discourages signs of aging, reduces dark spots, and fidgeting against oxidative damage.
Eye Cream with Vitamin C
Vitamin c is a perfect ingredient for an eye cream since it works to keep the eye area bright and smooth. Because the eye area is prone to discoloration and dehydration, vitamin c will help soothe, hydrate, and improve the skin tone without irritation.
Moisturizer with Vitamin C
Consumers can use a moisturizer with vitamin c is, a skincare product, to keep their face healthy. This product provides many benefits, such as keeping the skin moisturized, reducing signs of aging, and helping even the skin tone.
The Advantages Of Private Label Vitamin C Skincare Products
If you want to start your private label skincare journey, we'd say start it with vitamin C! Here are what you can take advantage of when you do:
Effective Products
Vitamin C is the main ingredient in this private label skin care product. Vitamin c contains numerous benefits that make it more effective. These effects are what entice the customer into buying more.
Offers Flexibility
Amongst the most versatile and flexible ingredients is vitamin C. It can be incorporated into a broad range of products from face to body to lips.
Is A Budget-Friendly Option
You can start your vitamin c skin care products at a low initial cost when you partner with Chinese manufacturers like TY OEM Cosmetics. They can offer low MOQ, and you can even negotiate your price.
Quality Controllable
Vitamin C is one of skincare products' safest yet gentle ingredients. You can partner with a manufacturer offering safe, sustainable, and certified vitamin c skin care products.
Has A Fast Product Production
Among the products that are fast and easy to work with is vitamin c skin care. When you are starting a business a need a product on-hand, these can be the products you can begin with!
FAQs When It Comes To Vitamin C Private Label Products
If you have more questions about private label skin care products, you can refer to more details below:
What are the main benefits of private label vitamin products?
There is a broad range of benefits of vitamin c in skin care products can offer, such as:
It is a big help in making the skin firmer, healthier, and smoother.
Since it can penetrate the layers of the skin, it targets blood vessels under the skin that causes various skin issues.
They help boost collagen production.
Vitamin c can help treat wounds and sunburn.
They help lessen skin discoloration, dark spots, wrinkles, and fine lines.
Why is Vitamin C a dermatologist's favorite?
Because of how beneficial vitamin c is, they have become a dermatologist's favorite; this component is potent because of its anti-inflammatory, brightening, and anti-aging properties. These properties can be a big help in combating various skin issues.
Why do vitamins continue to top as ingredients in the skincare market?
Based on the data given by Figaro Digital, many consumers are interested in vitamin c skin care because of its antioxidant properties. And because of the benefits of vitamin c in skin care, they become a top ingredient with a growing value of 5.7% CAGR between 2022 and 2032.
Why Should You Private Label Vitamin C Products?
Vitamin C skincare is one of the most extensive options you can start with as a business owner. Vitamin C offers a broad range of benefits on the skin that will intrigue your customers to buy your products. You have unlimited product options that you can play with in terms of vitamin C.
Private label vitamin C products are the best start if you want to gain high sales and complete control of this competitive market. TENGYU OEM Cosmetics offers an outstanding vitamin c skincare range that is perfect for your business. We can help you produce your product idea come to life! What are you waiting for? Contact us now.