Shampoo products are among the best hair care products that improve the look of the hair. It has different purposes, such as replenishing the nutrients and natural oil loss when you wash them. For this reason, from 2020 to 2030, the global shampoo market will grow at a CAGR of 4.3%. They will also value from around $29,700.7 million in 2020 to $44,378.8 million in 2030.
In this article, we'll discuss all details about shampoo, its purpose, and the common ingredients that come with it. We will also mention the types of shampoo used for a specific purpose and why it's best to partner with TY OEM Cosmetics in making your dream private label shampoo come to life.
What Is A Shampoo?
The shampoo is a hair care product used to clean the hair. This product has a thick liquid consistency; however, it can also come in a solid bar form. The shampoo is applied to wet hair, massaged into the scalp then rinsed out. This application process helps eliminate issues like excess sebum, fine dust, dandruff, and dryness.
What Is The Purpose Of Shampoo In The Hair?
Shampoo serves many purposes, but its main one is cleaning the hair. It also helps removes the oil and dirt in the hair fibers and scalp, making it healthier. The shampoo also helps reduces dandruff and dryness while promoting fuller strands, so it's easy to comb.
The Importance Of Private Label Shampoo
Private label shampoo is a service given by TY OEM Cosmetics. We are a trustworthy factory that will help you to produce your shampoo product to become one of these profitable brands in the market.
Marketing
Private labeling your shampoo has advantages with marketing. You can create a solid marketing approach using the designs, quality, and timeliness of shampoo products.
High-Profit Margins
Hair products like shampoo are so popular, which is why they are profitable. The reason for this is it is a necessity used every day. Even though there is a price for paying a factory to produce your brand and you can still price your shampoo higher, leading to greater earnings. It will be worth it.
Branding
Branding is a long-term commitment and investment since this process will give your business to have an identity. A private label manufacturer allows you to put your product name and brand. They will modify each product for it to fit in your target market and not be a cheap generic product they easily find.
Common Ingredients In A Shampoo
The following ingredients are commonly put in the shampoo formula:
Sulfates
Sulfate is a primary chemical in a shampoo, which helps thoroughly cleanses the hair and scalp. This ingredient doesn't make the shampoo lather, but it targets various hair issues. Sulfates are also a big help in stripping off dirt, impurities, and oil in the hair. It also helps with hair frizz and retains hair colors.
Sodium Chloride
In a shampoo, sodium chloride serves as a thickening agent. These ingredients help the shampoo formulation foam up, making it creamier and more luscious. However, it also serves a higher purpose, such as roughens up the cuticle, making the hair fine, flat, and appears fuller.
Salicylic Acid
Salicylic Acid is found most on a skincare product; however, it is also used on shampoo since its equally effective on the hair and scalp. This ingredient helps cure scalp problems like psoriasis and dandruff.
Parabens
A component used to preserve the shelf life of shampoos is paraben. Paraben is a helpful ingredient that prevents the growth of mold, bacteria, and fungi, making the products last for at least six months.
Argan Oil
An argan oil, also known as liquid gold, is a powerful component coming from the argan tree. This argan oil is a big help in hydrating, softening, and soothing the hair and scalp. It even contains vitamins like Vitamin E and fatty acids, which help stimulate hair growth and thick strands.
Private Label Shampoo For Specific Needs
In TY OEM Cosmetics, we produce a wide range of private label shampoo for your brand and customers' needs. We can make all types of shampoo with unique formulations and modify them based on specific needs.
Straight Hair
Moroccan oil shampoo is perfect for straight hair because it hydrates and softens the hair. It also replenishes the lost amino acids, straightens them, and aligns their natural keratin structure. It will also give the hair healthy-looking, manageable, and straight hair.
Curly and Wavy Hair
A Curly and wavy hair perfectly suits argan oil shampoo. Since this kind of hair is apt to breakage and frizz—argan oil is appropriate shampoo due to its nutrients, vitamins, and benefits. This shampoo even helps moisturize, nourish, smoothen, and improve elasticity. It also controls all-day frizz and boosts the curls to be smoother and healthier!
Thin and Hair Loss-prone Hair
Numerous characteristics contribute to thinning and hair loss. However, one way to treat them is with herbal essence shampoo. This shampoo promotes hair growth by making it longer, thicker, and stronger. The hair will also grow fast without drying out and breaking.
Dandruff-prone Hair
For dandruff-prone hair, the best shampoo is dandruff shampoo. This shampoo contains antibacterial and antifungal components like zinc pyrithione, ketoconazole, and ciclopirox. It even helps your scalp fight dandruff, reduces itching, and limits excessive sebum production.
Oily Scalp
For oily hair, a clarifying shampoo is the most suitable. It has many benefits, such as it helps remove pollutants, excess sebum, and oil in the hair. It also deep cleanses and removes the build-up without drying the hair out.
Dyed Colored Hair
Dyed-colored hair suffers any damages, including drying and color fade out. With this factor, purple shampoo is best as it serves as a toner to restore the color of the hair, prevent breakage, and make it healthier. Purple shampoo is also helpful in balancing the undesired yellow and orange tones.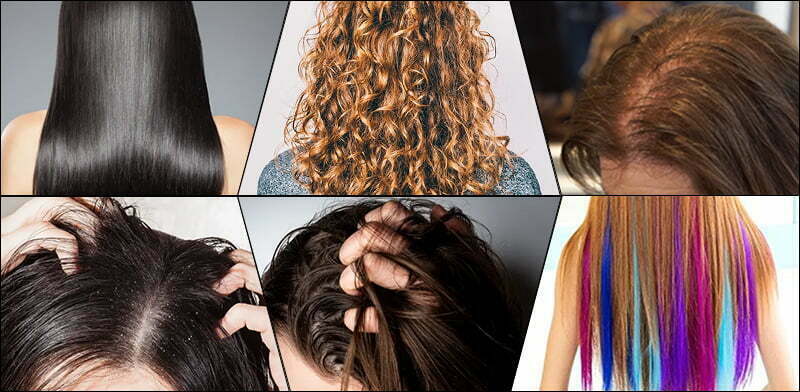 How Can TY OEM Cosmetic Help You Launch Your Private Label Shampoo?
Private label shampoo has become the most innovative approach for hair care products. It is because it solves various hair issues at profitable prices. TY OEM Cosmetics has been a top producer of private label shampoo. Here are the ways we can help you launch your own:
Inquire for Private Label Shampoo Services
We have numerous shampoo services that are unique and special for each client. We ensure that we cater to all your needs, starting when you send us a quote of what you want, prices, materials, expectations, etc.
Develop Formulation
Our dermatologist, scientist, and development experts produced the top-notch shampoo formulation. You have the option to use ours, or we can customize them for you. We can make your formulation with your desired ingredients, consistency, and fragrances.
Established Brand and Packaging
Brand and packaging are elements in a successful private label shampoo brand. In TY OEM Cosmetics, we ensure that the branding and graphic team will create your distinct shampoo brand identity.
Bulk Production
After checking and approving the final product, we will manufacture your shampoo based on your MOQ. You can also inspect the production to ensure everything is according to what you have planned.
Shipping
Before shipping the products, we double-check everything so they will arrive safe and sound. We have a partnered shipping company that you can use or arrange the shipping processes yourselves.