After a thorough comparison of the top 10 private-label skin care manufacturers, TY Cosmetic came out as the best option for private-label importers, online e-commerce stores, hair salons, and spas.
Our list of the best skincare manufacturers will help you take your business to the next level. From organic solutions and natural ingredients to custom product labeling with unique designs, these companies provide everything you need to create your own unique and profitable skincare line.
Keep reading to learn more!
1. Manufacturer Reviews
1. TY Cosmetic – Best for Overall Private-Label Skincare Manufacturing
Country & City: Guangzhou, China
Established Date: 2009
TY Cosmetic provides unbeatable value for your money – with their economical formulation and packaging customization combined with Chinese manufacturing, you can keep expenses low while still delivering a product that's sure to wow your customers. Personalized, customized services make your brand stand apart from the competition, giving you a unique edge and creating a lasting impression. With TY Cosmetic, you can rest assured knowing you're getting the total package and that your customers will have something special.
Company Image:
Factory Image:
Key Products: Body care and face care
Product Image:
Take Away Note:
Companies such as private-label importers, e-commerce brands, hair salons, and spas who wish to develop and launch their own skin or hair range with minimal financial investment and hassle can turn to this company for cost-effective luxurious solutions. In addition to superior formulations and custom cosmetic packaging services, they provide everything you need to create your own unique range that will help you stand out from the competition.
2. Vitelle Labs – Best for Product Formulation and Packaging
Country & City: Vancouver, Canada
Established Date: 1997
For the past 2 decades, Vitelle Laboratories has been at the forefront of the beauty industry, providing top-notch formulations and products created by a team of highly experienced chemists and skincare experts. If you're looking for something unique and tailored to your needs, Vitelle has you covered. With their capabilities for customizing and personalizing your product, you can create something truly special.
Company Image:
Key Products: Natural skin care, hair care
Product image:
Take Away Note:
This company provides a vast selection of private-label skin and body care products for medical, resort, and eco-spas. They also offer customized formulation and product manufacturing services, all with an eye toward providing the finest quality and reliability that beauty products require.
3. Trilogy Laboratories – Best for Anti-Aging Skin Care
Country & City: Florida, USA
Established Date: 2014
Trilogy Laboratories' collection of superior skin care products includes anti-aging creams, post-treatment ointments, and mineral makeup. They have partnered with the Florida Academy of Skin Care to provide its professional product line, Integraderm, to students and regional skin care providers. All products are crafted using natural ingredients, tested for safety and effectiveness, and made with certified organic plant extracts and essential oils for quality assurance.
Company Image:
Key Products: Cleansers, toners, exfoliators
Product image: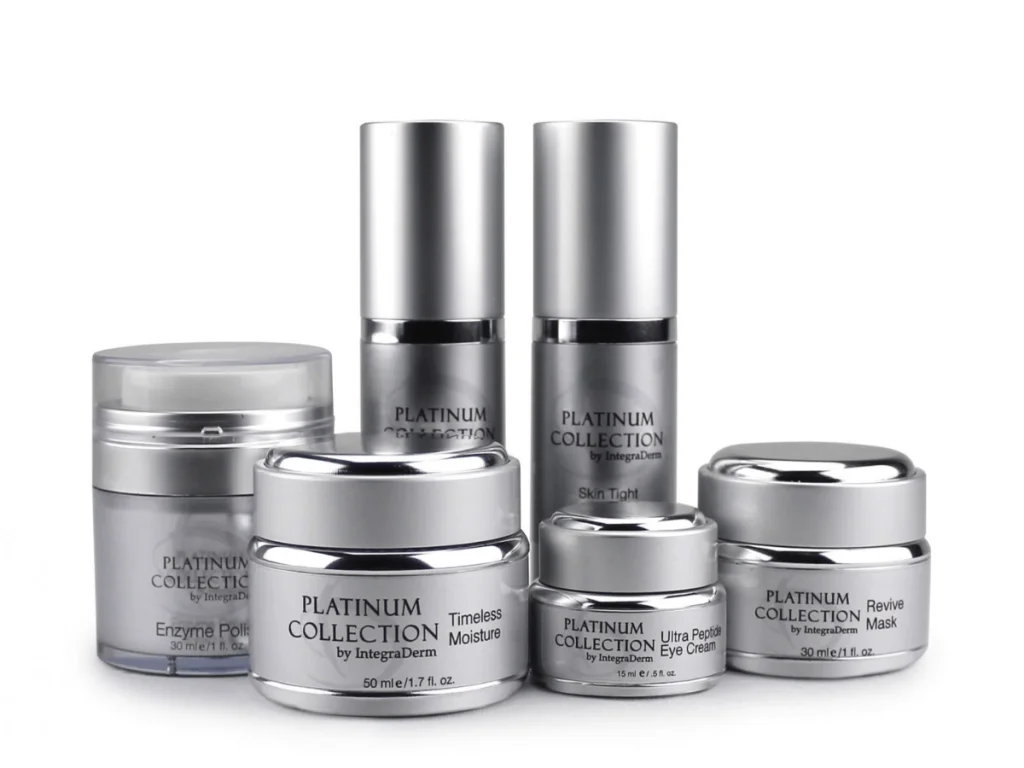 Take Away Note:
Whether you're a small or a large-scale business looking for premium skin care products, this manufacturer is your way to go. All of their products are made of natural ingredients that have been rigorously tested and include certified organic plant extracts and essential oils of the utmost quality.
4. Evora – Best Manufacturing Facility
Country & City: Florida, USA
Established Date: 1977
Evora is a leading provider of skincare solutions, giving companies the ability to create and distribute products quickly and safely. Their 80,000-square-foot climate-controlled warehouse safeguards your products and ensures fast delivery. The company offers custom formulation as well as in-stock products that can be branded privately, full-service contract manufacturing, and product kitting services for simplified ordering.
Company Image: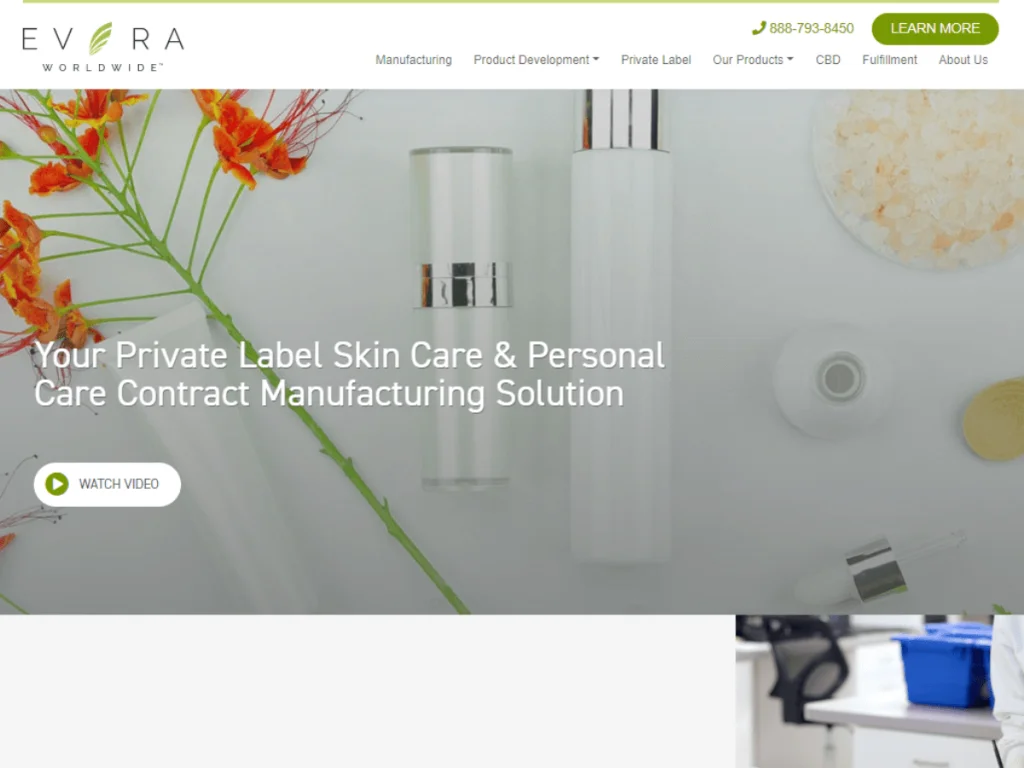 Key Products: Body care, burn care, skin care
Product Image: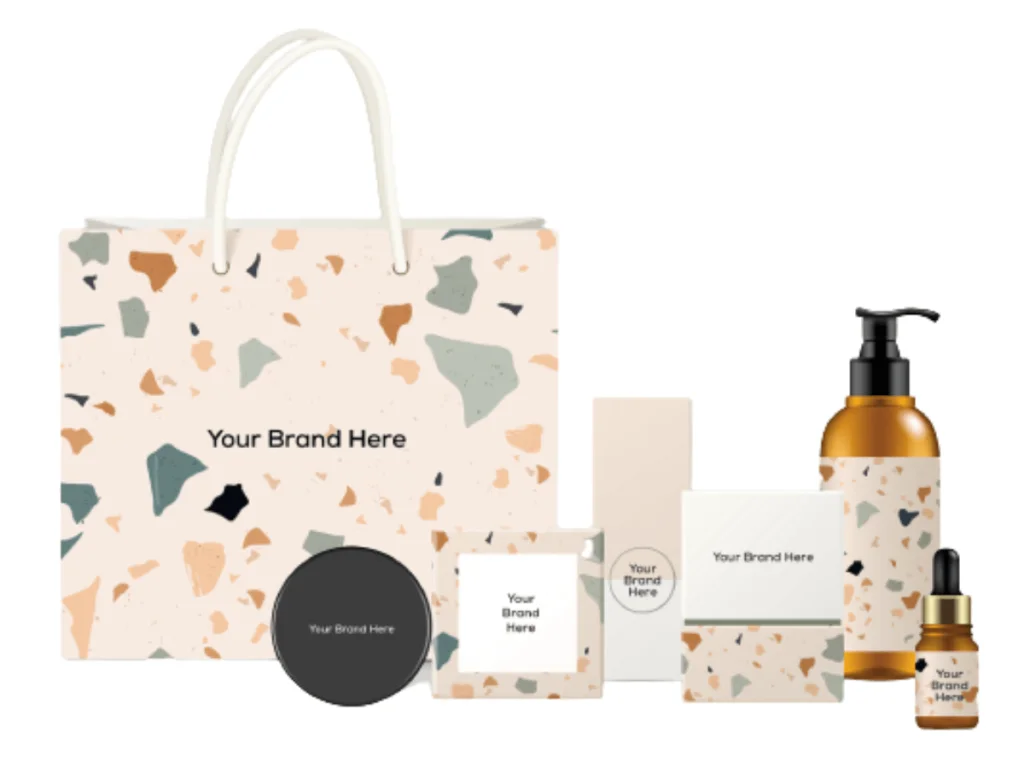 Take Away Note:
Evora is the perfect choice for businesses that need fast and easy access to their products. Their myriad of services makes them an ideal partner for those looking to make a splash in the skincare world.
5. TCI Group – Best in Skin Care Supplements
Country & City: Hamburg, Germany
Established Date: 1980
For 4 decades, TCI Group Ltd. has been a leader in the manufacturing industry. This powerhouse of innovation is made up of 884 dedicated individuals who have been instrumental in the company's success this past year. With facilities across Asia and North America and its headquarters located in Taipei's Neihu Technology Park, this manufacturer not only develops groundbreaking products and formulations, but also provides sustainable value while striving to improve the economy, environment, and society.
Company Image:
Key Products: Facial mask, probiotics, and supplements
Product image:
Take Away Note:
TCI Group is an excellent option for large corporations looking to purchase private-label facial masks. With their years of expertise in the industry, commitment to innovation and sustainability, and impressive international reach, they easily stand out from the competition.
6. Cosmetic Solutions – Best in Natural Cosmetics
Country & City: United States
Established Date: 1996
Cosmetic Solutions has been devoted to providing unbeatable beauty and health services since 1996. With prices that can't be beaten, they offer a wide variety of haircare, skincare, cosmetics, and other beauty products.
Company Image:
Key Products: Hair care, skin and body care, makeup
Product image: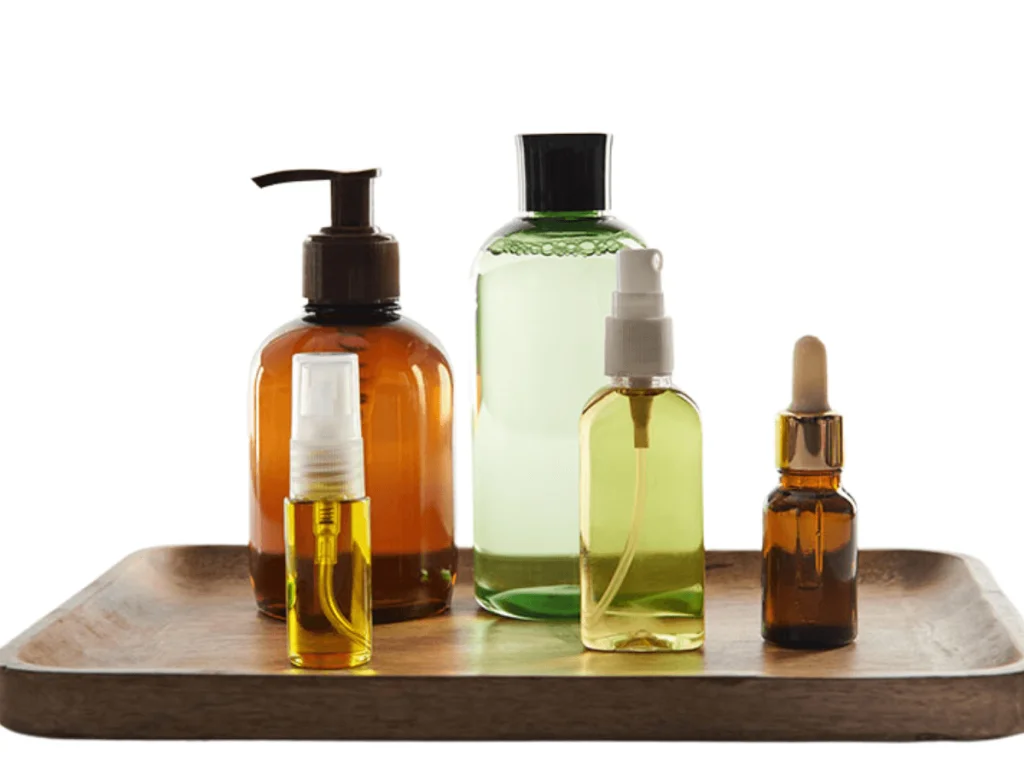 Take Away Note:
This manufacturer is best to partner with start-up brands, as they offer a wide selection of haircare, skincare, and makeup products. Their unbeatable prices cater to entrepreneurs who are looking to start their own line without breaking the bank.
7. RainShadow Labs – Best in Organic and Safety-Certified Formulations
Country & City: Oregon, USA
Established Date: 1983
RainShadow Labs produces exceptional skin care products that are certified to meet both USDA Organic and ISO standards. Their 99% pure biodynamically grown hemp guarantees superior results and natural ingredients of the utmost quality. Cutting-edge technology enables cost-effective production, allowing them to offer these superior products at affordable rates.
Company Image:
Key Products: Body creams and scrubs, essential oils, sun protection
Product Image:
Take Away Note:
In addition to offering exceptional product development and design services, this company provides top-notch technical support for packaging and labeling. Brands, spas and salons, and retailers looking for the best organic products should strongly consider them.
8. Dynamic Blending – Best for Technology and Innovation
Country & City: Utah, USA
Established Date:
Dynamic Blending is a top private-label lip balm manufacturer that puts people first – their employees, corporate partners, and customers. This commitment extends to the high-quality, innovative solutions they provide in turnkey manufacturing and more. With a selection of balm bases and natural flavors to choose from, as well as customizable packaging, they have the know-how and resources to produce excellent products.
Company Image:
Key Products: Body care, skin care
Product image:
Take Away Note:
This manufacturer is suitable for businesses of all sizes. They have a variety of balm bases and natural flavors to choose from, as well as customizable packaging, and the expertise and resources to make top-notch products. However, lead times for orders may be longer than with some other manufacturers.
9. Bo International – Best in Quality Ingredients
Country & City: New Delhi, India
Established Date: 2013
Bo International is a leader in creating top-of-the-line personal care and cosmetics, having been in operation since 2013. Their 40,000 sq. ft. facility utilizes the latest technology and boasts a team of over 160 highly trained professionals, who have successfully shipped to more than 15 countries. Additionally, they offer private-label manufacturing services for beauty and personal care products. Their R&D specialists have formulated over 2,500 creams and lotions for domestic and international cosmetic companies.
Company Image:
Key Products: Body lotions, body oils, face creams
Product Image:
Take Away Note:
This Indian manufacturing business is ideal for large brands, retailers, and spas seeking high-quality and cost-effective private-label products. They specialize in providing custom formulations, private label production, and customized manufacturing and packaging services.
10. HSA Cosmetics – Best for After-Sales Services
Country & City: Europe
Established Date: 1982
HSA Cosmetics is an experienced private-label cosmetics manufacturer, established in 1982 with a commitment to producing and marketing industry-leading cosmetic products. To ensure product quality, all products are exclusively manufactured in Italy. Additionally, they ship their beauty and hair care items to 90 countries across 5 continents.
Company Image:
Key Products: Hair care, skin care
Product image: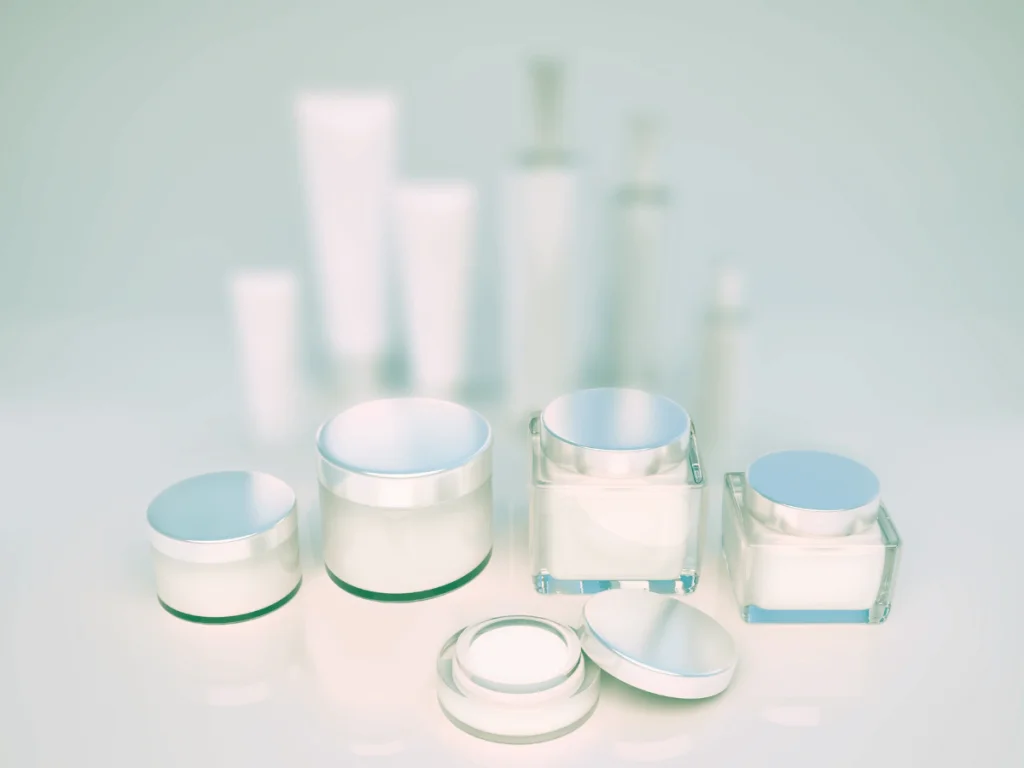 Take Away Note:
This manufacturer is a perfect partner for large-scale retailers, salons, and spas looking for a reliable supplier of quality products. They specialize in private label production and provide top-notch services to their clients, including product design, manufacturing, packaging, brand building, and more.
2. 4 Tips when Choosing a Manufacturer
So, how do you choose the right private-label skin care manufacturer? Here are 4 tips to consider when selecting a manufacturing partner:
#1 Authenticity of the Manufacturer
If you're looking to get into the skincare business, it's important to do your research first. Make sure that the manufacturer you select is reliable and trustworthy, especially when considering a foreign-based one. Doing your due diligence in advance could save you both time and money down the line.
When looking for a manufacturer, there are 2 most important things you might want to check:
Expertise: This includes the years of experience the manufacturer has in producing skincare products, as well as their knowledge in formulating, testing, and manufacturing.
Clientele: Having a good understanding of the types of clients they've worked with in the past can help you to ensure that their products are ethically produced and meet industry standards.
#2 Product Components
When creating a line of skin care products, it's important to know exactly what ingredients you intend to use. When researching manufacturers, don't just look for price – make sure that the manufacturer offers quality raw materials and components for your formulations. In addition, pay attention to their production processes and packaging options. This will ensure that your products are both safe and attractive to consumers.
For example, your product can be produced with all the components being handled by a single manufacturer, or divided across multiple vendors. This choice largely depends on the level of customization desired and the budget available.
The 3 components that make up a skincare product are:
the product itself (e.g. makeup, shampoo, skin cream, etc.)
the primary packaging (e.g. lipstick tube or lotion pump bottle)
the secondary packaging (e.g. outer box)
When looking for manufacturers, take note of the materials and processes used for each component. This will help you to create a product that meets both your desired aesthetic and quality requirements. Additionally, having each of these components produced by separate manufacturers is easier, but not necessarily the ideal solution for your needs.
#3 Regulatory Compliance and Quality Standards
Another important factor to consider when selecting the right skin care manufacturer is their understanding of regulatory compliance and quality standards. The product you create must meet a certain level of safety and compliance requirements to ensure that it is safe for consumers. The manufacturer should also be knowledgeable about any additional certification requirements, depending on where you plan to distribute your products.
The common certifications given to businesses in the skincare and cosmetics industry are:
In addition to these certifications, the manufacturer should be able to provide verification documents for their production processes, such as ISO 9001 certification or Hazard Analysis Critical Control Point (HACCP) certification.
#4 Production Capacity and Capability
The production capacity and capability of a manufacturer are also important factors to consider. This will include the number of products they are able to produce per day, as well as their capabilities for customizing your product.
A recent survey conducted by the American Association of Cosmetics Manufacturers revealed that most manufacturers can produce between 500 and 5,000 units per day. However, it is important to ask about their capacity for customizing your product as well. This includes options such as adding scents, colors, or special additives like SPF protection.
3. Conclusion
So, there you have it! You are now ready to choose the perfect private-label skin care manufacturer for your business. Always remember to choose a trusted partner to ensure quality and consistency.
TY Cosmetic offers the best quality and the most competitive prices. Our extensive industry experience, wide selection of products, and custom product labeling options make us a great choice for those looking to create their own skincare line. Contact us today for more information about our products and services!