Massage oils are an essential tool for any massage therapist, providing a smooth and silky glide over the skin while helping to nourish and moisturize. With so many options on the market, it can be overwhelming to choose the best massage oil for your needs.
That's why we've tested and reviewed the top 10 manufacturers to bring you the best of the best. From organic and natural options to luxurious and indulgent blends, we've got you covered. Whether you're a professional massage therapist or a business owner looking to incorporate massage oils in your product line, these manufacturers are sure to have something for everyone.
So let's get started and find the perfect massage oil for you!
1. Top 10 Massage Oil Manufacturers
#1 Cosmiko
Cosmiko understands the importance of finding the perfect product and packaging look. With that in mind, they have crafted a selection of natural, hypoallergenic products with enhanced performance than even the most expensive high street skin care brands.
All of their products are made in the UK and free from sulfates, parabens, and alcohol, making them ideal for people with sensitive skin. Cosmiko also offers a wide variety of containers, ranging from recycled and recyclable materials to various finishing options, including full-color printing, foiling, embossing, and cello wrap.
Country and City: United Kingdom
Established Date: 2012
Key Products: Body creams and lotions, cleansers, eyecare, oils
Company Image:
Product image: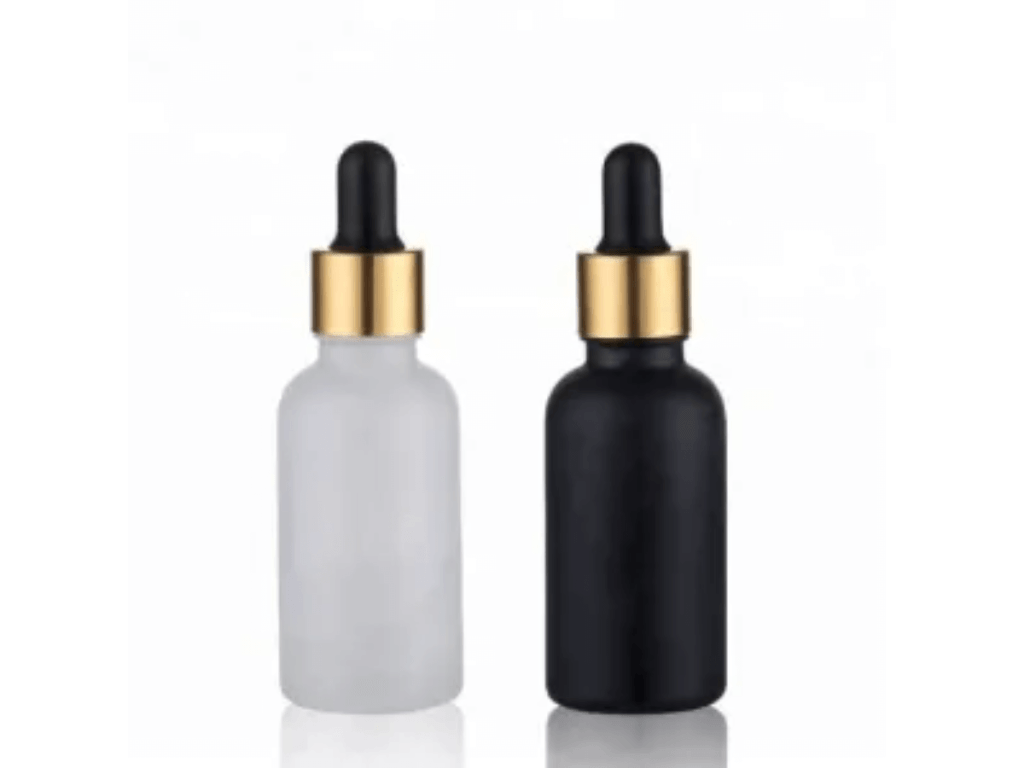 Review:
Cosmiko offers a comprehensive service for creating private label products. Their formulas are hypoallergenic and their unique packaging design ensures that your product will stand out from the rest. Plus, as all of their products are made in the UK and free from harsh chemicals, you can be certain that they are safe to use on even the most sensitive skin types.
#2 TY Cosmetic
For those looking to start their own skincare or haircare line without the hassle and expense, TY Cosmetic offers complete and cost-effective end-to-end customization solutions. Their high-quality services create a unique brand impression, all from premium product personalization that is made in China, giving you an edge over competitors at a budget-friendly price. With TY Cosmetic as your partner, your brand will stand out and make lasting impressions.
Country and City: Guangzhou, China
Established Date: 2009
Key Products: Body care and face care
Company Image:
Factory image:
Product image:
Review:
For entrepreneurs who are looking to build their own skincare or haircare brand, this company is the go-to choice. They provide cost-effective, top-tier services for formulating and customizing both product packaging and cosmetics. Their end-to-end solutions, made in China, are tailored to fit all budgets and ensure that your brand will stand out from the crowd and make lasting impressions.
#3 Jordane
Jordane is a leading private label makeup manufacturer and wholesale makeup supplier. They use only the highest quality raw ingredients when crafting their cosmetics line, allowing entrepreneurs to start their own business with a minimal cost.
Thanks to the booming global cosmetics and perfume industry – estimated to bring in an annual turnover of USD170 billion – there is a great potential for high revenue and profit in this sector. In fact, today it has become almost essential for women to have the latest luxury vegan cosmetics or beauty products with them.
Hundreds of entrepreneurs have used private label body products and makeup to become millionaires over a short period of time, and now this company makes it possible for anyone to join the industry and start their own private label makeup line.
Country and City: Ontario, Canada
Established Date: 1983
Key Product: Cosmetics, skin care
Company Image: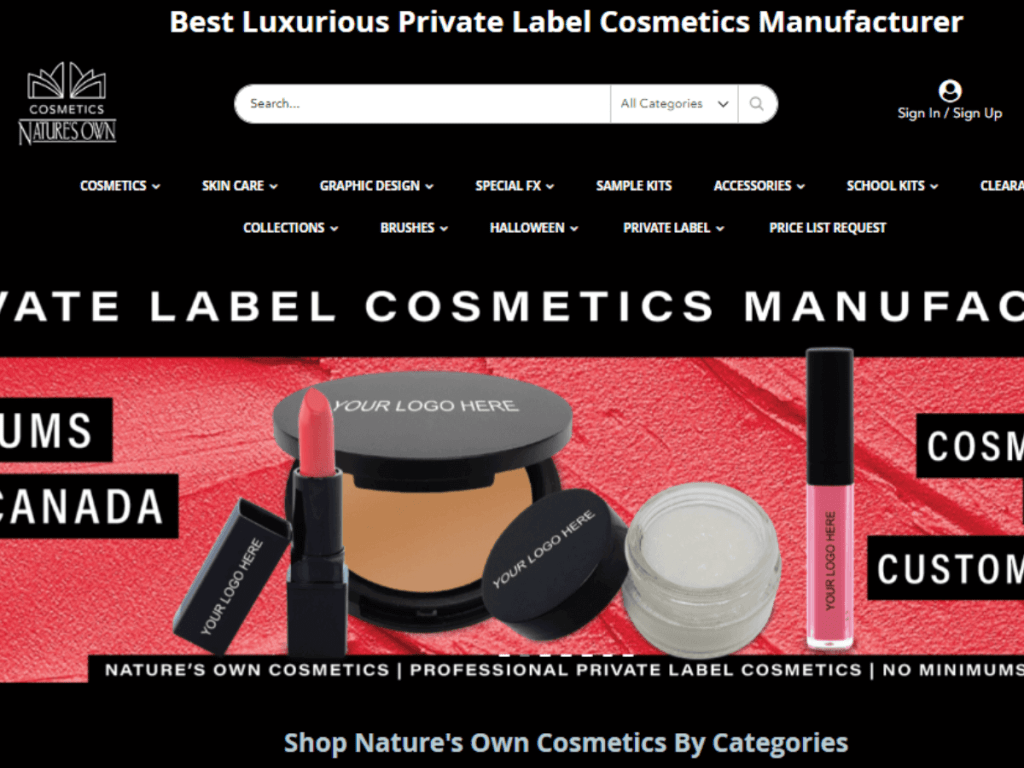 Product image:
Review:
When it comes to producing superior-quality cosmetics and skincare products, Jordane Cosmetics is unparalleled. Their team of experienced professionals and use of only the best raw materials ensure that the products they produce meet the highest standards of color and texture.
#4 Hara Naturals
Hara Naturals is a leading herbal company in India, boasting skilled workers, state-of-the-art equipment, and large facilities. Their expertise extends far beyond just producing high-quality herbal products – they also offer product development, manufacturing, and packaging services as well as custom ingredients tailored to their clients' needs.
Moreover, all of their products go through a rigorous process which includes ISO, GMP, and Halal certifications. Custom labeling, printing, and tamper-proof containers are available to fulfill their client's needs.
Country and City: Gujarat, India
Established Date: 2014
Key Products: Soaps, skin care, hair care, body care
Company Image: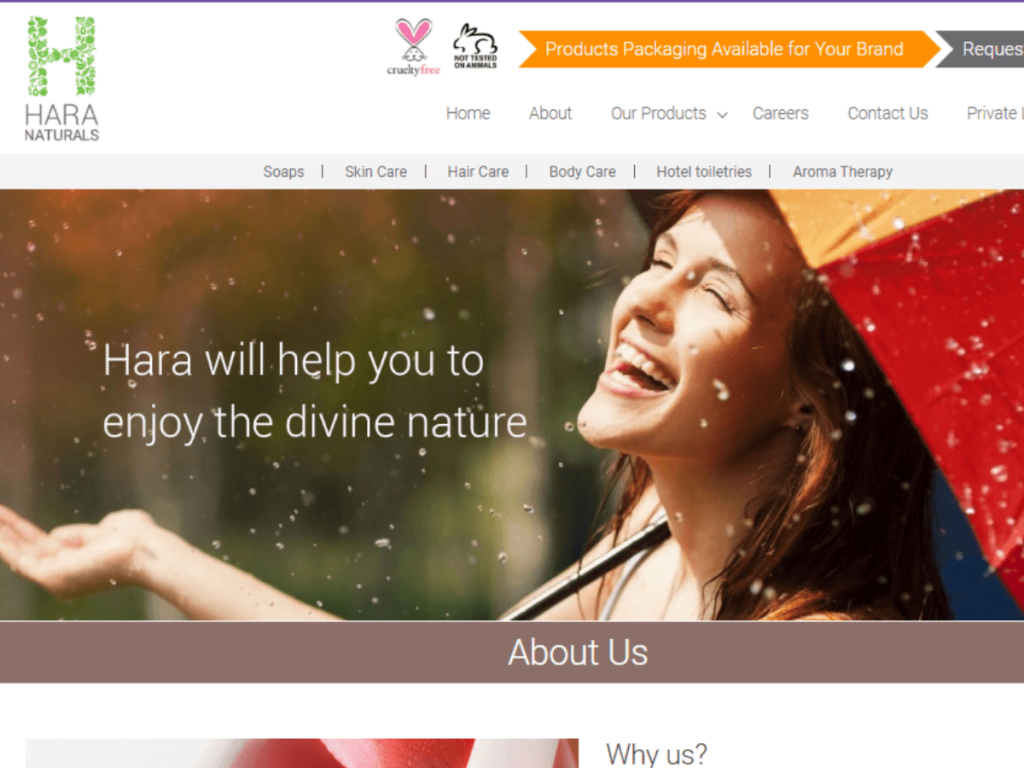 Product image: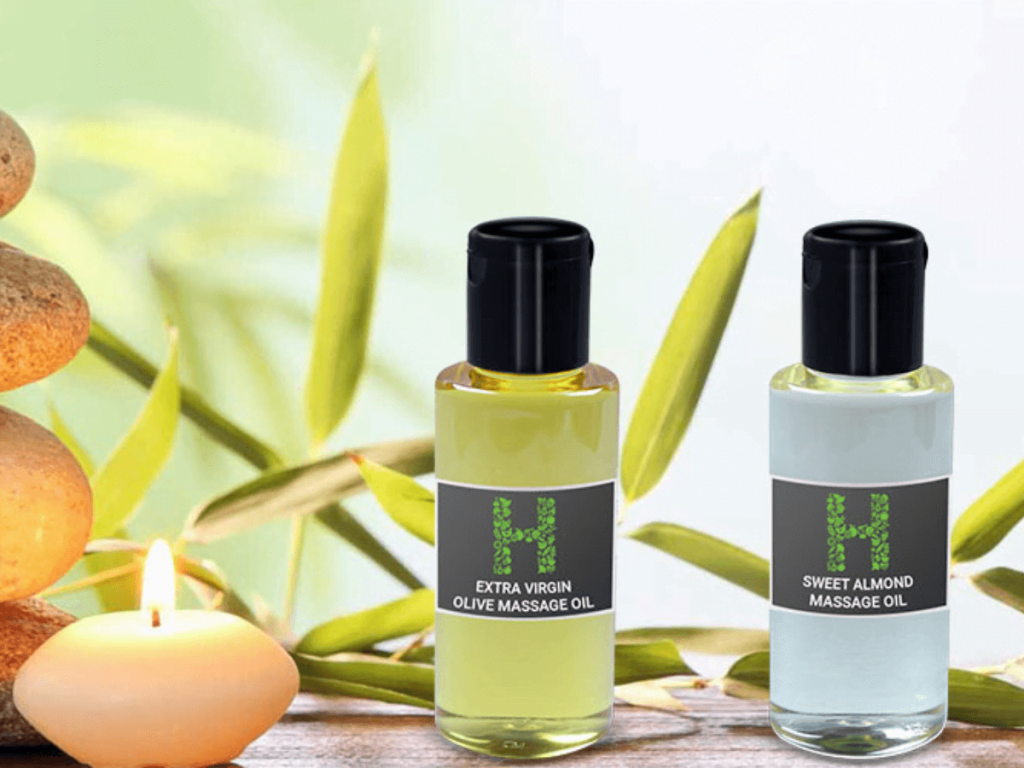 Review:
This company is the perfect choice for those looking for a private-label herbal manufacturing partner. Not only do they provide large facility space, experienced workers, and access to state-of-the-art equipment, but they also offer custom ingredients tailored to your needs.
#5 RainshadowLabs
RainShadow Labs is a leading creator of organic skin care products that are both USDA Organic and ISO Certified. Their 99% pure biodynamically grown hemp is a unique feature that sets them apart from the competition.
With their experience in the body, hair, and skin care industries and their commitment to the highest quality ingredients, they produce exceptional results. Cutting-edge technology allows for cost-effective product development, ensuring competitive pricing on this top-notch product line.
Country and City: Oregon, USA
Established Date: 1983
Key Product: Body creams and scrubs, essential oils, sun protection
Company Image: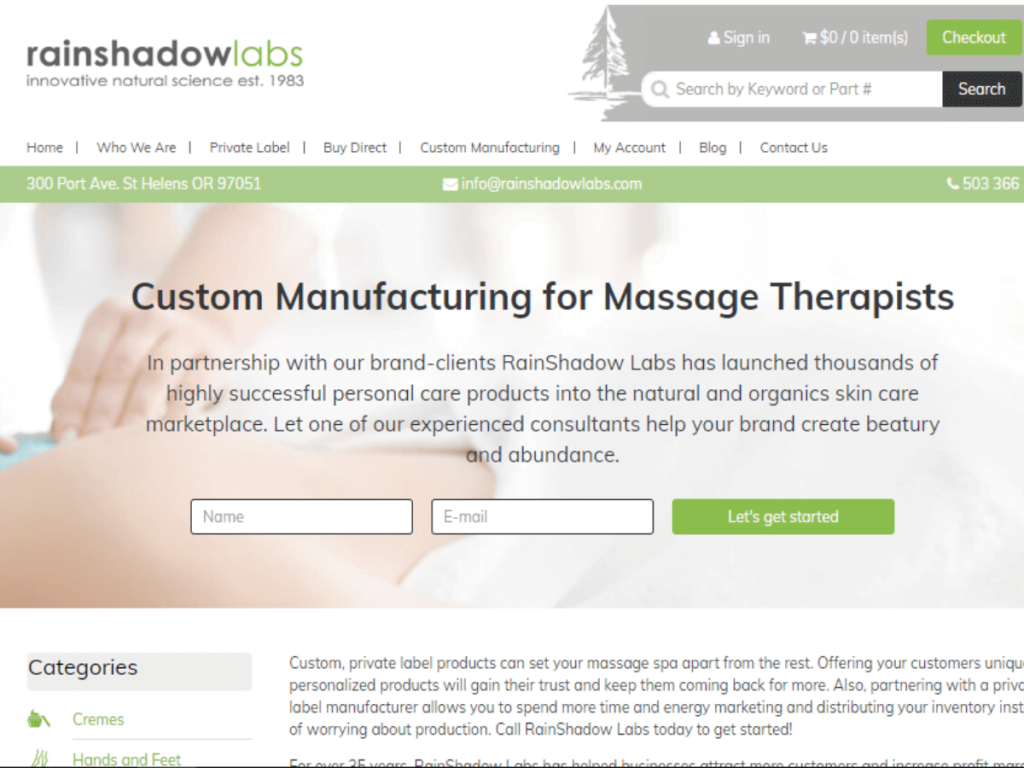 Product image: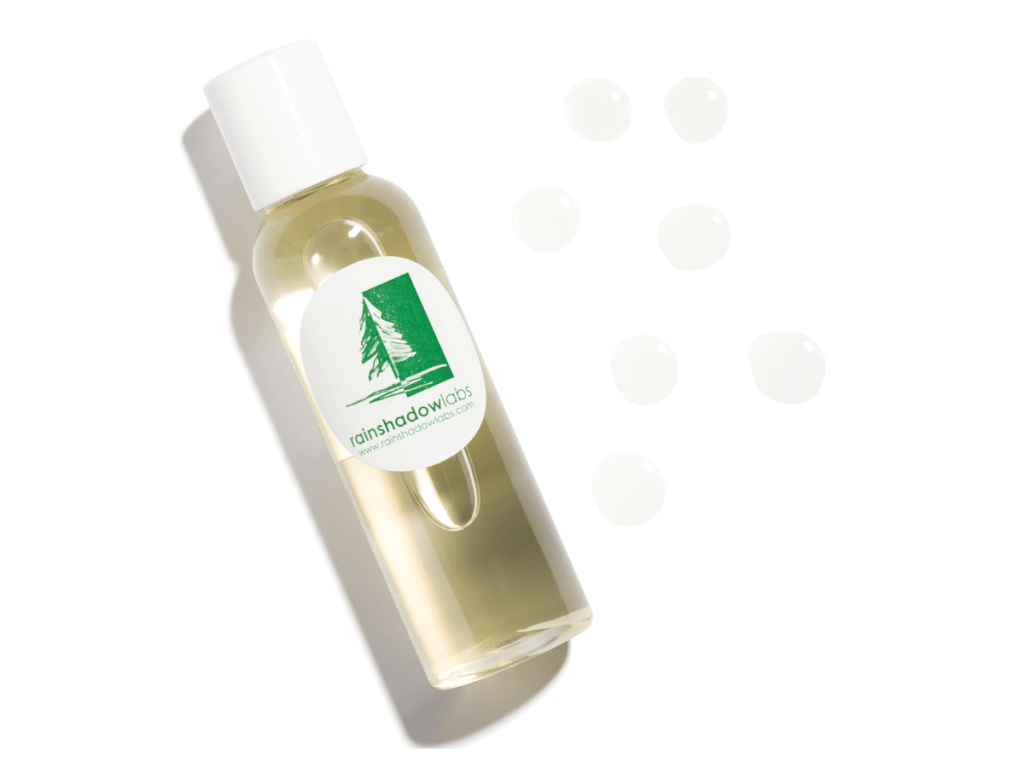 Review:
The company is a premier organic private label personal care products manufacturer, offering excellent product development and design. They provide unparalleled technical support for packaging and label procurement, along with warehouse services for excess product packaging, contract filling, multi-product packaging, and shipping operational logistics.
#6 Bulk Apothecary
Bulk Apothecary started as a small brick-and-mortar store in Streetsboro, Ohio in mid-2010. Since then, they have grown into one of the nation's largest online suppliers of natural ingredients and essential oils. Their portfolio has expanded significantly over the years, now featuring a wide selection of specialty ingredients and vitamin supplements.
What's more, their digital presence has reached remarkable heights, continuing to expand day by day. Even with such growth, the company still maintains their original physical store in Ohio.
Country and City: Ohio, USA
Established Date: 2010
Key Products: Essential oils, diffusers
Company Image:
Product image:
Review:
For those looking for high-quality spa products at an affordable price, this company is the perfect solution. They provide a vast selection of items, and their customer service team puts in the time and effort to make sure every order meets your standards. With Bulk Apothecary, you can expect great prices and exceptional service.
#7 Ausmetics
With 24 years of experience in OEM and ODM cosmetics, Ausmetics is a leader in the skin care, mom and baby care, and household cleaning industries. To serve their customers better, the company has established 4 production bases in Australia and China.
Their cutting-edge technologies and world-class research and development teams ensure they can provide excellent customer service to accommodate various customer needs. They consider consumer trends, product marketability, formulation concepts, and product planning in the development process, as well as providing insights into formulations and ingredients, plus samples for customers to conduct real-time trials.
Country and City: Guangzhou, China
Established Date: 1998
Key Products: Face cream, body lotion, body oil
Company Image:
Product image:
Review:
Ausmetics is an excellent choice for anyone looking for a reliable OEM/ODM group that specializes in cosmetics ans skincare products. They offer high-quality products at reasonable prices, and their customer service is top-notch – they go out of their way to ensure that customers' needs are met. Not to mention, their cutting-edge technologies and teams that provide the latest insight into formulations and ingredients.
#8 NF Skin
NF Skin is a trusted partner of theirs customers, providing guided assistance throughout the entire process – from R&D to the first sale and shipment. By staying informed on beauty and wellness trends, emerging ingredients and technologies, they have positioned themselves as one of the leading private label manufacturers in the industry.
Plus, their products are made with only the best clinically supported ingredients, and manufactured in plants that strictly adhere to GMP and regulatory standards.
Country and City: Florida, USA
Established Date: 2008
Key Product: hair care, body care
Company Image:
Product image:
Review:
If you're searching for a reliable contract manufacturer to handle the production of your private label cosmetics and skincare products, this company is the best choice. Their team of experts provide guidance and support throughout the entire process, while their use of only the highest-quality clinically supported ingredients and commitment to GMP and regulatory standards ensure excellent results.
#9 Nascent Naturals
If you're looking to sell your own line of essential oils but don't have the means to purchase huge drums from direct sources, or don't want to pay the overinflated prices that multilevel or network marketing companies charge, then private labeling through Nascent Naturals is the way to go.
They stock nearly 80 essential oils, and can work with you to develop a unique line of oils that suits your particular market or demographic. If they don't stock the oil you're looking for, they can usually source it for you.
Country and City: Ontario, Canada
Established Date: 2010
Key Products: Aromatherapy, natural body care
Company Image:
Product image:
Review:
With this company, you can start selling your own line of essential oils without needing a huge inventory, without paying for grossly overpriced oils, and without padding someone else's upline. Plus, the company advice and proper education on the responsible use of essential oils for safe, effective, long-term usage and enjoyment of all their benefits. With them, you get quality, affordability, and peace of mind.
#10 Jasmin Organics
Nestled in the heart of Tamborine Mountain's rainforests in Gold Coast, Australia, Jasmin Organics has created a unique team of botanists, aromatherapists, and leading formulators to bring their founder's vision to life – 100% natural skincare products.
Committed to being environmentally sustainable, they strive to provide the gentlest ways to moisturize, nourish, and renew the skin by utilizing the healing power of nature and aromatherapy, combined with time-tested scientific processes. With Jasmin Organics, you can expect natural skincare products that are good for both your skin and the environment.
Country and City: Queensland, Australia
Established Date:
Key Products: Skincare, aromatherapy
Company Image: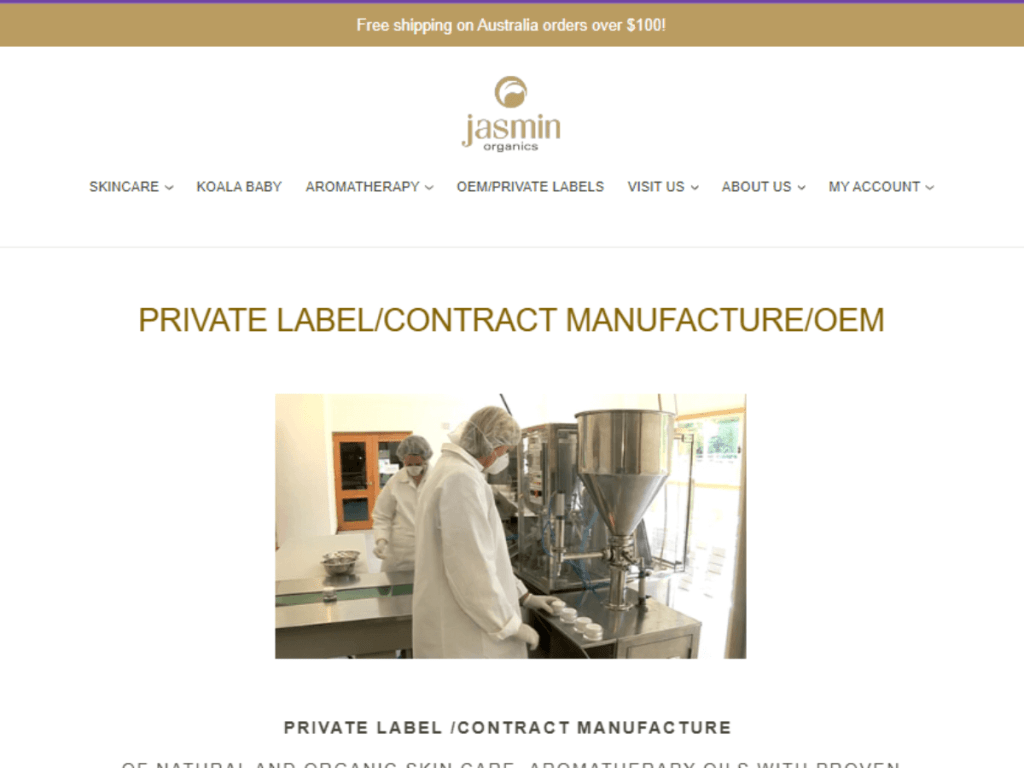 Product image: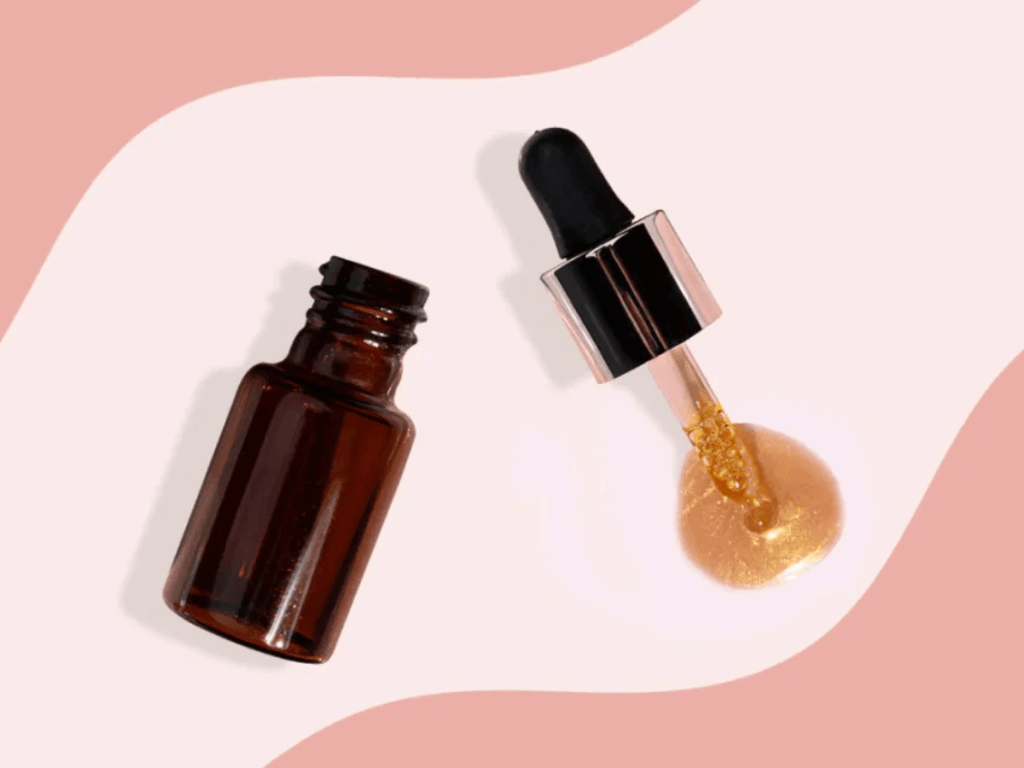 Review:
Jasmin Organics is one of the leading massage oil manufacturers in Australia. Their products are made with natural ingredients, free from synthetic chemicals, and carefully formulated to provide your skin with a gentle and nourishing experience.
2. 5 Things To Look for in Massage Oil Manufacturer
Massage oils can be a great addition to massage therapy, helping to add lubrication and reduce friction during massage. When looking for a massage oil manufacturer, these 5 considerations should be kept in mind:
#1 Quality and Safety of Ingredients Used
The quality and safety of the ingredients used in massage oils are important factors to consider when choosing a manufacturer. Here are some reasons why:
Massage oils used in massage therapy come into contact with delicate skin and must be carefully crafted to not irritate or damage the skin.
These oils are also applied for extended periods of time, meaning that ingredients need to be of exceptional quality and free from toxins, allergens, impurities, and heavy metals.
Massage oils are often used in therapeutic massage sessions to target certain areas of the body and must be able to penetrate the skin to provide maximum benefits.
These oils are also used to reduce stress and provide relaxation, meaning manufacturers should employ natural ingredients that are known for their calming properties.
Hence, massage oil manufacturers must be diligent in selecting the best ingredients and ensuring that they are free from contaminants. They should also make sure that their massage oils are tested by a third-party laboratory to ensure quality and safety standards are met. With these considerations, massage therapists can have peace of mind knowing that the massage oils they use on their clients have been crafted with the utmost care and attention.
#2 Transparency in Their Production and Packaging Processes
Another important factor to consider when looking for massage oil manufacturers is the transparency of their production and packaging processes. To ensure business owners and their clients are getting massage oils that are of the highest quality, manufacturers should make sure to communicate their production and packaging processes openly. This includes:
How massage oils are formulated
How ingredients are sourced
Where manufacturing takes place
What type of containers or bottles do massage oils come in
Information on safety procedures
#3 Variety of Product Formulations
Different types of massage oils require different formulations, so it is important to look for a manufacturer that offers a variety of product formulations. This will enable massage therapists to find the right type of oil for each client's needs and preferences. Here are the most common massage oil formulations:
Water-based oils: These oils are designed to be lightweight and easily absorbed into the skin. They are often made with natural ingredients like sweet almond oil and sunflower seed oil.
Aromatherapy massage oils: These oils are specifically formulated to provide a relaxing, therapeutic effect with the help of essential oils. The most common aromatherapy scents are lavender, eucalyptus, and rosemary.
CBD-infused massage oil: This type of oil is made with a combination of natural oils and Cannabidiol extract. This formulation offers a variety of benefits, including pain relief and stress reduction.
Organic, natural and unscented options: Some massage therapists prefer to work with massage oils that are free from fragrances and harsh chemicals. Natural, organic, and unscented options are available for those who prefer these types of products.
#4 Professionalism in Customer Service
A recent study conducted by the American Massage Therapy Association found that customer service is one of the most important factors for massage oil manufacturers. This includes responsiveness to inquiries, timely order fulfillment, and clear communication about product details.
Thus, it is important for business owners to look for massage oil manufacturers that prioritize professionalism in their customer service. Doing so ensures that orders are fulfilled quickly and efficiently, allowing massage therapists to get the products they need on time.
#5 Reputation in Industry
Most importantly, business owners should research the reputation of massage oil manufacturers before committing to a purchase. Reading customer reviews and researching industry awards can be extremely helpful for getting an accurate picture of a manufacturer's quality and reliability. Looking for brands that are known for their commitment to excellence is one way to ensure business owners get the best products for their clients.
For example, TY Cosmetic is an award-winning massage oil manufacturer that is well-known in the industry for its commitment to quality, safety, and customer service. Their products are made with natural ingredients and are tested by a third-party laboratory. They also offer a variety of product formulations, making it easier for massage therapists to find the right type of oil for each client.
3. How to Find a Good Massage Oil Manufacturers
Massage oils are an important part of any massage therapy session, and as such, it is important to find a reliable massage oil manufacturer to ensure that you receive quality products. Here are the simple steps for finding the right massage oil manufacturer for your needs:
Step#1 Research
Start by researching online to discover the different manufacturers that are available. Look for reviews and feedback from past customers to get a better understanding of their products and services.
Online marketplaces such as Amazon and Alibaba are great resources for finding reputable massage oil manufacturers. Take the time to read through customer reviews and ratings to get an overview of their products, quality, and customer service.
Step#2 Check Quality Standards
Once you've narrowed down your search, it's time to consider the quality of the massage oils that each manufacturer produces. While cheaper products may be readily available, they are often made with lower-grade ingredients and can be less effective than higher-quality oils.
To ensure that you receive a good quality product, seek out manufacturers who adhere to strict industry standards and use premium ingredients in their blends. The most common quality standards for the industry are:
Step#3 Request Samples
Requesting samples is a great way to test out different manufacturers without committing to larger orders. Many manufacturers will offer samples at no cost, allowing you to try their products and determine which one is right for your needs. Once you have decided on a manufacturer, you can then order in bulk or request additional samples if necessary.
Step#4 Review Contracts Carefully
Before committing to a manufacturer, you can always ask for a copy of the contract or agreement and review it thoroughly. Make sure that all terms and conditions are clearly outlined, such as payment options, delivery details, return policies, etc.
You should also check for any hidden fees or additional charges that may apply. This will ensure that you get the best deal and that your expectations are met.
Step#5 Place Your Order
Once you have finished steps 1 to 4, you are now ready to place your order. Contact the manufacturer directly and provide them with all the necessary details to ensure that your order is processed correctly.
Keep in mind that it may take a few weeks or even months for you to receive your products, so plan accordingly and be sure to communicate with the manufacturer if there are any delays. With these steps, you can be sure to find a good massage oil manufacturer and receive the products you need.
4. Conclusion
The best massage oils are essential for ensuring a great massage experience. Whether you're looking to start a spa business or just want to add massage oils to your product line, be sure to partner with a reliable manufacturer that offers quality oils and customer service. With the right massage oil manufacturer, you can ensure a successful long-term relationship, one that provides consistent products at competitive prices.
Contact us at TY Cosmetic to get started on your massage oil journey. We provide high-quality essential oils and carrier oils as well as a range of related products, such as body scrubs—all at competitive prices. Get in touch today to learn more about our range of services and to place your order.