The soap market is one of the growing markets today. In 2019, it was reported to be worth USD 34.09 billion; by 2027, this worth will grow to USD 55.29 billion. These market changes have a 5.0% CAGR. At this rate, taking advantage and being one of the best soap brands is a good decision. Looking for where to start? This article will provide all the details you need!
What is private label soap?
Private-label soap is a product that serves a different purpose. However, its primary goal is to cleanse and refresh the body and face from harsh factors. Finding a private-label manufacturer for your soap means you will not start from scratch. They will be the ones to handle everything from ingredients, packaging, labels, and soap-making equipment.
The Benefits of Private Label Soap
Soap has different benefits for the skin, the environment, and your business. Some of these benefits are the following.
Removes Dirt and Sweat
The primary purpose of soap is to clean the face and body of sweat, dirt, grease, oils, and even pollutants. The soap contains ingredients and emulsifying agents that help remove harmful skin elements. This product will help alleviate any effects, such as pimples, breakouts, acne, and skin-related problems.
Highly Moisturizing
Among the most enticing benefits of soap is that it can act as a natural moisturizer to keep the skin moisturized. Soap can keep the skin actively healthy, soft, and nourished. It even contains ingredients like natural oils, shea butter, etc., which will not be stripped off the skin's natural layers.
Has Anti-bacterial Properties
Every skin is exposed to various external factors like pollution, dirt, oils, etc., that can negatively impact the skin. One of the characteristics of soap is that it kills bacteria and prevents them from causing any harm to the skin. Instead, it will protect the skin by inhibiting the growth of these bacteria and cleaning the skin.
It Is For Everyone
One of the best benefits of soap is that it is inclusive to all. There would be a suitable soap, whatever skin color, skin type, fragrance preferences, or loved ingredient. Many private labels make soaps in various formulations, forms, and consistency. We guarantee you will find options ideal for babies, oily skin, sensitive skin, and people with specific skin problems.
Reduced Environmental Impact
There are different kinds of soap available; among the most buy our bar soap. Bar soap requires less packaging and contains more eco-friendly ingredients. If your company wants to target environmentally-inclusive consumers, selling them products with less packaging, plastic-free, and zero waste is a good idea.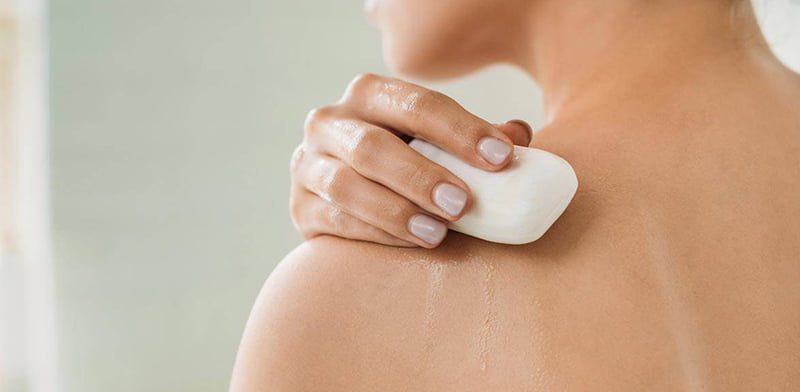 Ingredients Suitable For Private Label Soap
There are specific products needed for a high-quality soap to be created, such as:
Soap Base
The soap base is a raw material that contains lye, water, glycerin, and oil. It is already a ready-made block of soap, so few processes are only needed to create a new soap.
Animal Fat
To make the soap, fats, and oil is used. Different kinds of oils and animal fats will affect the quality of the soap, specifically its hardness, cleansing, creaminess, and lather properties. The best oil for soap is castile or olive oil.
Distilled Water
Water is a necessary component. We have noted that we need to combine oil and lye; water is the exact solution. Water is a must for the saponification process, which will mix the two components. Avoid using tap water as it might contain bacteria and disrupt the shelf life of the soap.
Essential Fragrance Oils
The scent doesn't do the transformation on the skin. Instead, it adds a pleasant odor when the soap is used. It is recommended that the fragrance oils needed to create unique aromas should be plant-based and without chemically induced.
Colorants
Colorants are added to the soap to make it more appealing and aesthetic. It should also be plant-based and not contain any chemicals.
Sodium Hydroxide
The most critical ingredient in making soap is sodium hydroxide, also known as lye. For the soap to get formed, lye and oils should cause a chemical reaction. This lye ingredient is essential as it produces a better and harder soap bar.
The Qualities of an Excellent Soap
Can you differentiate a soap from other soaps? It is vital that you do research and educate yourself on every aspect of soap. Before taking our word for it, you need to check the following qualities:
Ingredients
We emphasized how ingredients play into the formulation and effectiveness of the product. As a brand, you are responsible for checking with the manufacturer if the ingredients they use are natural, safe, and sustainable. The product should include high-quality oils, low percentage fragrance, and components that will not cause allergic reactions.
Hardness
How hard and compact the soap is mattered to most consumers. Excellent bar soap will be hard and dense enough not to melt quickly when it comes into contact with water. For the soap to attain a specific hardness, TY OEM cures all the soaps and formulates them with the right ingredients. It would ensure that it will last for quite some time.
Lather
The lather is a factor you can consider for the quality of soap. How consistent the soap's lather indicates that it is produced and formulated correctly. However, the more lather a soap has does not imply that it is more effective. Instead, it will be a factor in eliminating dirt by increasing the water's tension and trapping the dirt for easy rinsing.
Cleansing
Cleaning is the effectiveness of soap in dissolving undesirable substances in the face and body, such as dirt, oils, grease, toxins, free radicals, etc. An excellent quality soap should be able to be rinsed and used efficiently. Additionally, it should not strip the layers and natural oils on the skin.
What To Keep In Mind When Choosing A Private Label Soap Manufacturer?
Looking for the best private label manufacturer is not an easy task. However, it can be when you follow these top characteristics in sporting whom to work with.
Soap Packaging
Packaging is an essential service if you want soap products to be unique. Manufacturers can offer customized boxes, which come in plain boxes, paper wraps, shrink wraps, or small bags. These options will allow you to be more creative in building your branding.
Soap Labelling
In labeling your soap, there is a certain standard you need to follow, which FDA and CPSC require. It would be best if you had: Identity statement, net weight, business address and name, and list of ingredients. Your chosen manufacturer should know these, and they should be able to list all of them.
Soap Prints
The pints also matter in the appearance of the product and your brand. As a certified manufacturer, TY OEM puts into heart the best quality and satisfactory materials. We guarantee that we will produce waterproof, eco-friendly, and clear pints.
Standards and Regulations
The manufacturer and the product should comply with the standards and regulations to sell safely. You need to ask your manufacturers for documents that show their integrity. This method will prevent you from being flagged and accused.
Ingredients List
Listing the ingredients formulated by the manufacturer is essential for your customer to know the product's content. You should record the elements from the highest to least concentration. Additionally, it would help if you used common names to avoid confusion.
Different Types of Soap
You can start with a broad range of soap, so you must understand which is which. Digging deeper into each type will help you make a conclusive product plan and earn more profit.
Glycerin Soap
A type of soap with the main ingredient of glycerin, a fat or oil, is Glycerin Soap. This soap is a byproduct of a chemical reaction that occurs in the soap processes. Glycerin Soap is super mild and hydrating, which is why it is effective on any skin type, specifically dry skin.
Transparent Soap
As its name implies, transparent soap has a translucent look, made using the hot process method. Since the alcohol component is filtered out, it will have a clear look. Compared to other soap types, this has less leather and doesn't moisturize much. That makes it very suitable for oily and acne-prone skin.
Bathing Soaps
Bathing soap is the most common soap used to clean the body and any related hygiene routine. People use bathing soaps for showers, so it has a low TFM. That makes it easy to use, but not for other purposes.
Liquid Soap
Liquid soap is commonly used for hand washing hands, for homes, and for toilet sets. There are different kinds of liquid soap, which varies from high-end to low-end. However, it is formed using the same process: the hot process method and adding more water.
Moisturizing Soap
Moisturizing soap primarily aims to keep the skin nourished, moisturized, and hydrated. This soap type has a moisturizing agent like natural oils, aloe vera, shea butter, etc. If the skin is dry, waxing it with moisturizing soap will instill moisture.
Kitchen Soap
Kitchen soap is a dishwashing soap whose primary purpose is to be used in the kitchen. This dishwashing soap comes in various forms, such as liquid, gel, or soap. It is perfect for cleaning dishes, counter sinks, and other materials.
Laundry Soap
The primary function of laundry soap is to clean clothes. It has a central component of surfactants which aids in the removal of unpleasant factors like grease, oils, odors, and stains. There are different laundry soap types, such as liquid, pods, and powder.
Guest Soap
Guest soap is similar to hotel soap, but this soap is generally much smaller and comes in various appealing shapes. This sop also comes in multiple scents and more homey vibes. For this reason, it is designed for use by visitors.
Hotel Soap
Hotel soaps have more of a luxury feeling that gives the guest sense of inclusivity. Because it represents the hotel's brand, this look is minimalist, small, and luxurious.
Novelty Soap
Novelty soap is one of the most creative types of soap that comes in various shapes and designs. Novelty soap is made for kids, so it ​​serves a purpose other than cleaning. That is why this product is not effective in cleaning or eliminating bacteria; instead, more effective in giving out a sense of relief and fulfillment.
Chemical-Free Soap
As the name implies, chemical-free soap is formulated to be gentle and doesn't contain any harmful chemicals. This product is usually developed using lye, natural oil, and other plant-based ingredients. Even though it doesn't have something powerful, it is still effective in cleaning and cleaning bacteria.
Medicated Soap
Medicated soap is a product intended to treat and alleviate various skin problems. Some of the most common conditions related to medicated soap are rashes, blackheads, breakouts, acne, etc. there are three categories of medicated soap that you can choose from Antibacterial soaps, Antifungal Soaps, and Medicated Soaps for Skin Problems.
Beauty Soap
The perfect soap for the face is beauty soap. Beauty soaps are primarily created to clean the face and treat various skin conditions. It contains multiple ingredients that will suit every skin type. It also comes in different forms like gel, liquids, bar, and mouse.
In What Way Does TY Cosmetics Can Help You With Your Private Label Soap?
TY OEM Cosmetics has been number one in producing the best products in the skincare and cosmetic industry. One of our proudest innovations is our private label soap suitable for your target market. Interested to know how far we can help you? Here are some points we offer:
Offers Private Label Mini Soap For Hotels
Soap is one of the amenities people look for when they visit hotels. Our company offers private label soap that is customizable for your hotel business. We offer various sizes, from 10g, 15g, and 20g. You can also customize the fragrance, logo, and color. If you are in need.
Can Customize Private Label Soaps in Various Ways
We have mentioned that as a company, we want to cater to all—small businesses, big brands, etc. That is why we have an option for you to customize the soap as your own. You can choose the items you want, then send us details in the specific area you want to customize; for instance, in the following:
Item
Color
Fragrance
Shape
MOQ
Help you with Labeling and Packaging
We understand that you want to establish your branding as a brand and company. To do so, you need unique labels and packaging that speak for what you sell. We have in-house graphic artists and a team who can design labels, logos, and packaging for you. We can also accept ready-made ones, which we will incorporate into the product.
Affordable Pricing
One of the things that our many clients love about us is not only how high-quality our soap is but also how reasonable our prices are. We will give you a transparent quotation depending on the kind of soap and the customized services you choose. We will try to meet your budget, and we can adjust it as we move on to our partnership.
Utilize your Brand to Process your Products
If you are looking for a private label manufacturer that will do more than provide you with ready-made products, TY Cosmetic it is! We allow our clients to share collaborative efforts in making their products. Even if you're miles away, we will update you regularly, and we will take into consideration of your feedback. Rest assured that with us, everything is possible.