Private labels can help if you want to start your cosmetics and beauty business. It is an option to maximize your opportunities and product scope. So keep on reading as we walk you through the private label in the cosmetic and beauty industry!
What is a Private Label in the Cosmetic and Beauty Industry?
Collaborating with a beauty cosmetic private label manufacturer means you entrust them with the production of your products. Compared to other types of manufacturing, OEM and ODM are already established. That means they hand the upper hand in creating formulation, packaging, ingredients, etc.
However, it doesn't mean you will have no say in the products. What's good with private labels is that you can choose your identity and customized products without the need to go back to basics. Hence, it is a cheaper, easier, and faster option.
The Scope of Products in the Market For Private Labels
You can choose different products and product categories in the skincare and cosmetic industry. The following are some examples:
Skin Care Products
Skincare products help in improving the appearance of the skin. Everyone needs good skincare for a youthful and natural appearance while targeting skin issues. Some of the products under this category are:
Baby care products
Facial skincare
Hand and body lotions
Skin care products for men
Hair Care Products
Hair care products clean the scalp, wash away dirt, and promote healthy hair growth and lengthening. Products that are available under this category are:
Conditioners
Shampoos
Multicultural hair care products
Hair coloring products
Hair styling products
Sprays
Makeup Products
Makeup products are used to beautify the face and enhance the appearance. There are different kinds of makeup products for different face parts, such as:
Face Makeup
Eye makeup
Lipsticks
Lip glosses
Nail polishes
Oral Care Products
Oral care products keep the mouth clean and fresh, maintain good breath, and sustain a proper oral routine. Lip care is also included in these oral products to keep the lips healthy and hydrated. More of the oral products are:
Lip balms
Jellies and treatments
Mouthwashes
Toothpaste
Toothbrushes
Other Toiletries
Other toiletries include products to keep the face and body clean and refreshed, such as:
Deodorants
Antiperspirants
Personal cleansing products
Shaving products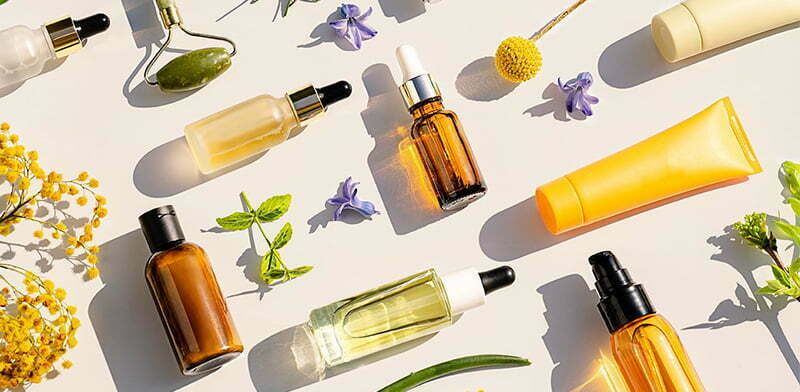 The Opportunities When You Private Label Your Products
Choosing to private label your beauty and cosmetic products is one of your wisest choices. This process will open doors for you to get more opportunities to grow your businesses and brand. The following are some opportunities you can anticipate when you private label your products.
Always Ready for Expansion
Beauty cosmetic private label manufacturers can support your product and brand expansion. These manufacturers have been in this industry, which is why they have the experience, technology, and resources to do so. Suppose you want to sell new skincare products that have different formulations and packaging, with private labeling, it is possible!
Adaptability
The trends for beauty cosmetics products are constantly changing. If you don't have the means to adapt to these changes, your brand and products will be left behind. That is why private label manufacturers allow you to create your products while being creative and adaptable to change. They have research capabilities, advanced technology, and a team of experts to make products based on consumer wants and market needs.
Production Management
Private label beauty and cosmetic manufacturers have a factory that has large spaces and advanced technology. That is the reason for the fast and high-quality output they put out. For instance, in TY OEM Cosmetics, we have an 80,000 m² production area, 68 automatic production lines, and over 2,000+ professional employees. Because of this rate, we can sustain the production of large orders and customize products.
Control Over Pricing
Starting a business takes time and money, especially in the beauty cosmetics industry. You have to make a big investment to gain significant returns. That is true if you opt to manufacture your products from scratch. However, manufacturers can give you a much lower quote regarding private labeling than others. Their prices will also be low if you order large MOQs. For this reason, you can price your products to make a significant profit.
Marketing and Branding Authority
Beauty cosmetic private label manufacturers like TY Cosmetics consistently make their products. They will even create your brand identity as the core of your products. That is why you can create your experience and knowledge to make your brand trustworthy in the market. Private label products are also exposed to the market, making it more convenient for you to earn customers and their trust.
How to Start Your Private Label Skincare and Cosmetic Business?
Starting a skincare or cosmetic company is now easier than ever! Anyone can build their own business, including you, using private labels. If you want to start your journey into making your way into the private label skincare and cosmetic business, check the list below.
Choose a Specialization
Do you intend to sell face and body products? Are you planning to expand your product lines to cosmetics? Perhaps, you will cater to men as your secondary target audience. These kinds of questions should be your guide before you start your business. It will help you focus more on your selling point, and it will also help you find your desired manufacturer.
Engage in Competitor Analysis
Your ideas and partnering with an OEM ODM manufacturer can help you grow your brand. The only issue is that the skincare and cosmetic industry are super competitive. You can expect that some other companies and businesses can overtake you. For this reason, before you launch your product, do competitor research. Check your competitor's reviews, products, prices, marketing strategy, and partners.
Choose the Best Skincare and Cosmetic Manufacturer
We have mentioned how competitive this industry is. That is why partnering with the best beauty cosmetic private label manufacturer lets you have the best-customized products. If you are in search for the best partner, TY OEM Cosmetics is for you!
Set Up Your Brand
The next thing you can do when you choose private labeling is to set up your store. It would be best if you made your identity to market your product better. You can also start on different e-commerce platforms and build your website.
Promote Your Brand
When you receive your skincare or cosmetic products from your private label manufacturer, it's up to you to market them. You can choose your preferred market channels like FaceBook, Instagram, or Linkedin to introduce what you are selling.
What Qualities Should You Look for in a Private Label Skincare and Cosmetic Manufacturer?
Taking advantage of the opportunities and scope of private labels in cosmetics and beauty will not be successful unless you partner with the best manufacturer. You must research and investigate various manufacturers with excellent track records and high customer satisfaction rates. You can also base your research on the qualities that a manufacturer in skincare and cosmetic should have:
Government Regulations and Safety Requirements
Not all private label beauty cosmetics products are fitted to international standards. If they are not, you will not be allowed to sell them. This scenario will push you to find a manufacturer that complies with the GMP, European, and North American regulations.
Certification Requirements
Certified products are one of the indications that they are safe to sell and use. You must find private label skincare and beauty manufacturer-certified products to sell products globally. Some certifications you need to spot are cruelty-free, GMO, or FDA-approved.
Sources of High-quality and Raw Materials
Many consumers today look into the ingredient lists. If you want your products to be high selling in this in-demand market, you should partner with a manufacturer like TY OEM with high-quality and clean sources. We have partnered with qualified companies to offer us our raw materials.
Services Offered
One of the qualities you need to look for in a beauty cosmetic private label manufacturer is their services. If they offer a broad range of products and services, they can cater to your needs now and in the future. You can check their services through pricing, availability, customer services, and packaging options.
The Flexibility of Minimum Order Requirements
If you are merely starting with your business and looking to venture into buying private label skincare and cosmetic products, choose a manufacturer that offers flexible MOQ. These quantities can be your sign that they can support you at the start and guide you to be more successful and profitable.
What Top Reasons Why TY Cosmetics Should Be Your Private Label Skincare and Cosmetic Manufacturers in China?
Partnering with the best private label manufacturer, TY Cosmetics, can help you gain more opportunities and scope. We have been providing and assisting thousands of businesses and companies worldwide. You can also rely on us to achieve business and product goals, and we can help you!
Moreover, here are more reasons why we, TY Cosmetic, should be your next partner:
Offers a Wide Selection of Products
TY Cosmetics can help you with any of your product needs. You can get skincare and cosmetic products from face to body, hair to essentials, and more. We have diverse product categories that you can check out here.
Unique formulation
One of the concerns of many clients of private labels is the formulation. They even ask numerous questions, such as—Can we have our formulation? Do you customize ingredients and tweak them based on our goals? Can you make formulations different from others? Definitely, we can offer you our unique ready-made formulations (we have over 8000+ that you can choose from). Or we can also help you customize your formulations, ingredients, measurements, etc. Let us know your formulation requirements!
Years of Experience
TY Cosmetics has been offering its products and services for more than 13 years. We started our company to provide you with your private label skincare and cosmetics. With our goal, we could grow and gain opportunities to export to different countries and regions worldwide.
We have also worked with over 2000 brands and 160 million skincare products each year. With our experience and capacity, we are confident that we can cater to your needs.
Offers Packaging and Labeling Services
One of the services we offer is customizing your packaging and labels. You have the option to avail of these services, and our graphic experts will render a design draft for you. You can provide us with your ideas and sketches, and our team will do the rest to make it come to life!
Flexible MOQ
One of our dedications as private label skincare and cosmetic manufacturers is to cater to all. That means we are open to partnering with smaller brands and start-ups looking for an affordable option. Our solution? We have flexible MOQs as low as 1000.
Why Partner With TY Cosmetic?
TY Cosmetics is a beauty cosmetic private label in China with more than 13 years of experience. We are one of the key players in this industry that provides top products related to beauty and cosmetics. We can help you streamline your supply chain when you work with us.
Suppose you want to leverage the opportunities and scope of private labels in cosmetics and beauty; partner with TY Cosmetics. You can contact us via our website, call us at +86 1597 5465 059, or email us at admin@tyoemcosmetic.com. We will tend to your inquiries in no time! We can wait to hear from you.