As you go around the supermarket or pharmacy, you might have noticed some products that say "sunblock" or "sunscreen." Are they different or the same? Which one are you going to choose? This article goes in-depth regarding the difference between sunscreen and sunblock and OEM sunscreen manufacturers.
How do Sunscreen and Sunblock Protect the Screen?
Despite the similar name, sunscreen and sunblock are different. Here's a simple table to show their differences:
Sunblock versus Sunscreen
Sunblock
Sunscreen
Physical sunscreen
Chemical sunscreen
Blocks UV rays from getting through the skin
Screens some UV rays from penetrating the skin, but allows some in
Uses zinc oxide or titanium dioxide
Uses avobenzone or oxybenzone
Sunblock is also called a physical sun protector. It reduces UV ray damage by scattering the rays and shielding the skin. It is safe and contains hypoallergenic ingredients. It is thick, has some whitening components, and lasts longer than sunscreen.
Sunblock Ingredients/Formulation
Titanium dioxide
Zinc oxide
Sunscreen, on the other hand, is also called a chemical sunscreen. It absorbs the light energy of ultraviolet rays and converts it to heat energy, thus, avoiding damage to the skin. Sunscreen has a thin consistency compared to sunblock. Thus, it does not last long, and you need to re-apply after a few hours.
Sunscreen Ingredients/Formulation
Diethylamino Hydroxybenzoyl Hexyl Benzoate
Ethylhexyl Salicylate
Disodium Phenyl Dibenzimidazole
Bis-Ethylhexyloxyphenol Methoxyphenyl Triazine
Ethylhexyl Methoxycinnamate
4-Methylbenzylidene Camphor
Butyl Methoxydibenzoylmethane
Octocrylene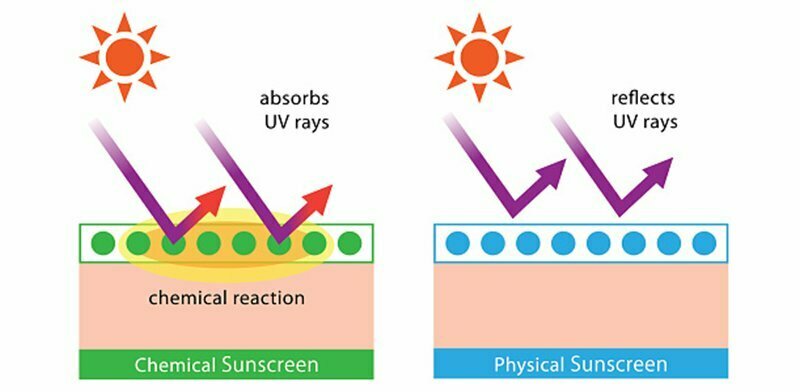 Which One to Use — Sunscreen or Sunblock?
Both sunscreen and sunblock provide protection for your skin. However, you need to consider your skin type when choosing which one is right for you.
If you have sensitive skin, it is advisable to choose a sunblock that contains titanium dioxide or zinc dioxide. These ingredients are often found in sunblocks designed for children.
If you are suffering from certain skin conditions or you are prone to allergy, avoid sunscreens with oxybenzone, fragrances, or PABA. These ingredients can cause allergic reactions to your skin.
Furthermore, dermatologists recommend using sunblocks with SPF 30 and above, especially where UV exposure is high. Proper application is also important to ensure the efficacy of sun protection.
What is SPF?
SPF stands for sun protection factor. It indicates the amount of protection it provides your skin against the sun's UVB rays.
The SPF number shows how long it will take for your skin to turn red upon sun exposure as opposed to the amount of time without any protection.
If you follow the direction on the label, a sunblock with SPF 45 will take the sun 45 minutes to burn your skin. An SPF 30 will take 30 minutes, and an SPF 50 will protect your skin for 50 minutes.
The Skin Cancer Foundation said that a sunblock with SPF 30 allows 3 percent of UVB to penetrate your skin, while an SPF 50 allows 2 percent.
Important Ingredients to Look For
Aside from the SPF, the following ingredients are also important when looking for the best sunblock or sunscreen to choose:
PA (Protection UVA)
It's the UVA protection measurement method standard introduced by the Japan Cosmetic Industry Federation in 1986. It shows the value of defense strength and effect as well as the sun-aging protection of the product.
A product with a PA+ rating provides 2 – 4 hours of sun protection; a PA++ provides 4 – 8 hours protection; while a PA+++ provides more than 8 hours of protection.
Broad Spectrum
It shows that the product can protect your skin against the sun's UVA and UVB. UVA causes the skin to age and has a longer wavelength. UVB, on the other hand, burns the skin and has a shorter wavelength.
Water-Resistant
A sunblock that says it's water-resistant can protect your skin for 40 minutes in the water. After that, you need to re-apply the sunblock for continuous protection.
Sensitive Skin
Although the FDA hasn't approved putting "sensitive skin" on the labels of sun protection products, look out for ingredients that might cause allergies like PABA, fragrances, and oils.
OEM/ODM Sunscreen and Sunblock
Sunblocks and sunscreens are some of the most popular skincare products. According to Statista, the market size for sunblock will amount to US$10.7 billion by 2024.
If you want to capture a big market share, having a reliable Private label sunscreen partner is vital to your success. When looking for an OEM sunscreen/sunblock manufacturing partner, quality, price, packaging, and logistics are very important. Here are some of the benefits TY Cosmetics can offer you:
Types of Foundation
Our sunscreen/sunblock products come in three types:
O/W sunscreen
W/O sunscreen
Sunscreen Spray
We can help you create different types of sunscreen for your target market, whether it be for sensitive or normal skin.
Packaging Materials
TY Cosmetics uses Tube PE with five layers of tubes made from high-grade, recyclable plastic film. Using this material makes it easier for you and your consumer. Our tubes have HDPE caps that provide the perfect seal for the PE tubes.
Price
We offer competitive pricing that complements your budget. Take note, however, that the higher the SPF value and the more the PA plus value of your product, the more expensive it is. Give us a call to know more about our pricing.
Delivery Time
Our delivery time depends on the production cycle of the packaging material, and the mode of shipping used. The production time of skincare packaging is generally 25-35 days, depending on different materials and bottle molds. When the packaging is ready, the time for mass production is 7-15 days. The general shipping time by sea is 40-45 days. It can be controlled according to the actual situation of the order, and please feel free to contact us.
TY Cosmetics: Your Best OEM/Private label Skincare Manufacturing Partner
TY Cosmetics has been specializing in the production of cosmetics/skincare. We have three factories in Guangzhou, a city in southern China. Our business is to help overseas brand companies and entrepreneurs produce quality cosmetics.
No Animal Testing
We at TY Cosmetics do not test our sunscreen/sunblock products on animals. Chinese cosmetic manufacturers/factories have to pass human testing by China's State Drug Administration. After that, their sunscreen/sunblock formulas are verified to be up to standard and qualified before they can be marketed.
Strict Quality Checks
After passing the quality check, the drug supervision bureau will issue a certificate. The processing of this certificate takes about one year, as well as a high cost. It ensures that the sunscreen/sunblock you buy is safe, effective, and gives good value for money.
Fully Certified
Our company has obtained several valid sunscreen and sunblock certificates in China, so you can rest assured that this is the case.
Click on the link:https://www.tyoemcosmetic.com/product-category/face-care/sunscreen/to see our wide range of sunscreen products!
Our product line covers facial care, body care, hair care, and household detergent. At present, our main markets are Europe, the United States, the Middle East and Southeast Asia. To put it simply, as long as the customer tells us what product he wants to make, we can export the full set of solutions to them.