These days, it's not just women who are conscious about their looks and skincare. According to Grand View Research, the global men's skincare products market size is valued at $11.6 billion in 2019 and has an annual growth rate of 6.2 percent. Furthermore, the market is expected to grow until 2027.
So if you are planning to have a men's skincare line, there's no better way to start than now. And of course, finding the right OEM partner is critical to the success of your product and brand. To help you with that, we created a simple guide to help you with the process as well as more information about the men's skincare market.
Market Challenges of OEM Men's Skincare
As much as growth shows a lot of promise in the market for men's care, it also has challenges. These include counterfeit products and consumer perception.
Counterfeit Products
Fake products are rampant in both women's and men's skincare products. The circulation of these counterfeit goods abounds through the online distribution channel. These fake products eat a good deal of the market share.
Consumer Perception
Internationally well-known brands that cater to women are not accepted by men. A lot of men think it's only for women. However, focusing on marketing and advertising can increase your brand reputation among male consumers around the world.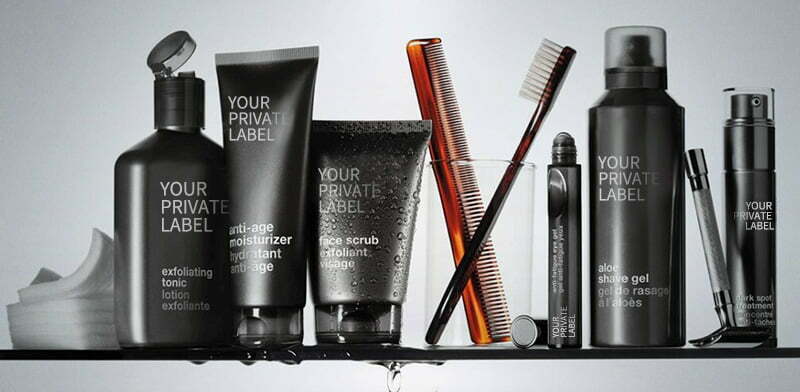 Challenges of Creating the Right Skincare Products for Men
The average modern man is becoming keener on caring for his skin. Unless you are not yet aware of this, men's skin is tougher, oilier, and thicker than women's. In fact, men secrete 40 to 70 percent more sebum on their faces — thanks to their high androgen levels. That's why they are more prone to acne, large pores, and other skin problems.
Furthermore, their stratum corneum has a slow metabolism process compared to women. Men have a 34-hour metabolic cycle in contrast with the 24-hour in women.
The stratum corneum is the body's first line of defense against toxins, bacteria, and dehydration. It also protects the other skin layers under it. Because of the slow metabolism, keratin accumulation is also poor, making the skin lusterless, rough, and thick.
Creating the Right OEM/Private label Skincare Product for Men
The men's skincare market has a lot of challenges and competition, so how can you create a unique product that will set you above others?
The answer is simple — start with the problem. What are the most common pain points men have when it comes to their skin? Then, you find a solution to that problem. Here is a list of the most common male skin problems and solutions.
Acne
When it comes to acne and oily skin, you need anti-bacterial and anti-inflammatory ingredients that reduce redness and swelling and promote wound healing.
Commonly used ingredients to address these skin problems are salicylic acid, tea tree, Japanese plant acne treatment, o-cymene, hydrocarbon-5-oil, sulfonated shale oil, European hepatica, alpine fireweed, etc.
Large Pores
Large pores are a result of oil clogging the skin. In order to regulate oil secretion and hydrate the skin, these ingredients are very helpful: PCA zinc, North American witch hazel, caprylyl glycol/glycine, Narcissus, birch brown porphyry, capric hydroxy acid, Jeju Island lava water, glacial mineral mud, etc.
Dryness and Tightness
These skin conditions are a result of dehydration. Active ingredients that prevent roughness, peeling, and tightness are hyaluronic acid, resurrection grass, seawater, golden mountain hot spring water, deep-sea algae (spirulina, golden macroalgae, chlorella).
Dullness and Aging
Dull and lifeless skin is a result of late nights and improper daily care. They also speed up the appearance of wrinkles and fine lines. Common ingredients that combat aging and dullness are niacinamide, retinol, vitamin C, fruit acids, peptides, ergothioneine, and echidna.
Redness and Sensitivity
Skin sensitivity is mostly due to skin imbalance or damage. To avoid this, you need to strengthen the water, microbial, and biological barriers of the skin. Common ingredients that help the skin against it are Centella Asiatica, Gentian extract, Kava extract, Gentian root, Amaranth, Korean phytochemical anti-allergy agent, sea fennel, European heliotrope, etc.
Heavy Body Odor
Men have very active sweat glands compared to women. Because of this, men's body odor is stronger. It becomes even worse if a man smokes or has poor body hygiene. Skincare products that target this should have anti-bacterial and antiperspirant ingredients.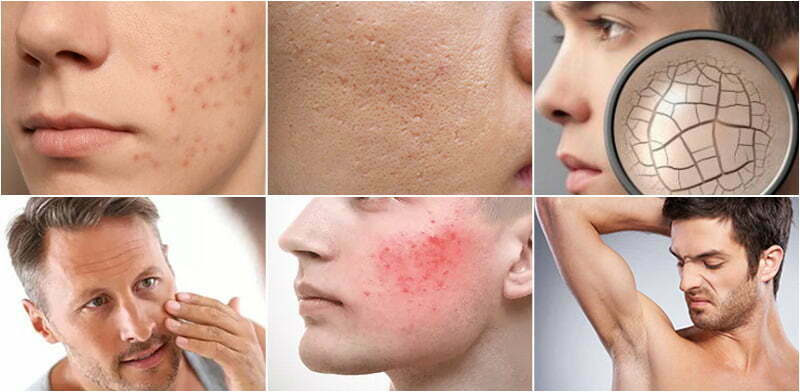 OEM/Customized Men's Skincare According to Skin Types
Oily Skin
Oily skin often has acne, pimples, blackheads, large pores, and acne because of the overproduction of oil in the skin. The truth is, this condition happens because the skin is dehydrated resulting in the skin secreting its own oil. Other causes are poor diet and lifestyle habits.
To solve this problem, the skincare routine for this should be as streamlined as possible. You also need to clean it regularly as well as hydrate and exfoliate it. Exfoliation should be done 2-3 times a month.
Use micro-acid cleansing products (foam, gel texture) + refreshing water, essence, cream diligent hydration.
Dry to Normal Skin
Dry skin has less sebum secretion; thus, it has less than normal skin moisture. This type of skin dry skin is more sensitive to external stimuli and more likely to have small wrinkles.
If you have dry skin, drink lots of water to restore the suppleness and elasticity of the skin. As for the type of skincare products to use, choose a moisturizing mask, nourishing cream, moisturizing serum, and hydrophilic cleanser. These will keep your skin hydrated and soft.
Oily/Dry Skin Combination
The oily/dry skin combination is characterized by an oily T-zone while the rest of the face is dry. Because of this, it is more troublesome to take care of it than oily or dry skin.
The right remedy for this type of skin is to focus on zoning care. In other words, it is using different products for each zone. For the T-zone, buy products that can regulate oil secretion and have natural moisturizing power. For the U-zone, use hyaluronic acid and collagen to keep the area hydrated. It is also recommended to use mild cleansing products for this skin type.
Sensitive skin
Sensitive skin easily dries and becomes tight if not taken care of properly. It is also prone to allergies, rashes, and acne. Therefore, your goal is to hydrate and strengthen the skin barrier.
Because sensitive skin is easily damaged and reacts immediately to stimuli, choose skincare products that are gentle and safe, have natural herbal ingredients, and use minimal additives.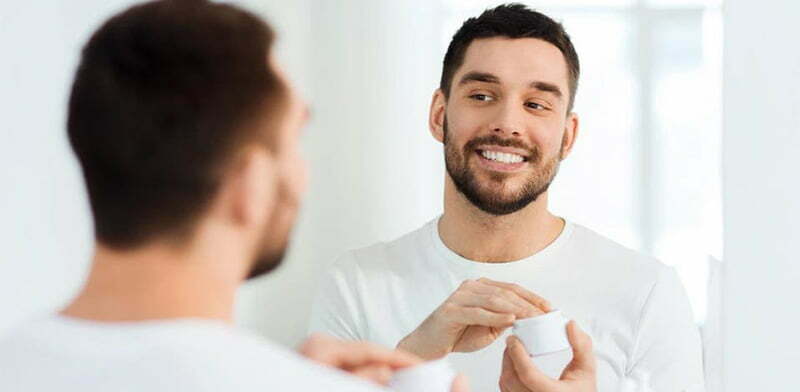 Finding the Right OEM/Private label Men Care Partner
While the men's care market is growing and still presents a lot of opportunities for entrepreneurs, there's a lot of competition. Therefore, you need to have the right strategy and a unique value proposition.
These things can be accomplished if you have the right OEM partner to turn your ideas into a reality. Three notable characteristics of a good manufacturer/supplier are:
Expertise — it's difficult to create a product if you're not dealing with experts. Furthermore, it will be a waste of time, effort, and money if they cannot deliver
Compliance — they have the certification and follow the standard manufacturing processes to ensure the products are of the highest quality.
Shipping — they use different shipping channels to ensure your goods arrive on time.
Read our Case Studies to see how we are able to create a wonderful user experience for our clients ,from planning to the finished product. For further inquiries, give us a call. We always get back to you within 24 hours!