During the projected timeframe of 2020 to 2026, the eye care product market is expected to rise at a strong CAGR of 4.6% and will gather at least USD 61.3 million to USD 79.9 million. Take advantage of this market possibility and start your own private label eye care products with us.
What is Eye Care?
The lipids and collagen structure around the eyes are weaker than the rest of the skin on the face. It is why dark under-eye bags, textures, and changes in the eye's skin elasticity are visible. These changes are not appealing to the eyes of many, and it affects the overall appearance over time, so people become particular with eye care products.
For these reasons, skincare brands incorporate eye care products into their product line. Some even strive to create private label eye care products that target eye skin issues, like an eye cream for wrinkles or eye serum for dark circles. However, what is this private label eye care, and why does it matter to brands and consumers today?
A third-party skincare company manufactures a private label eye care product; then, businesses are free to sell them as another corporation. The private label manufacturers have varieties of eye care products that can either be modified based on the eye care label. They allow their clients to choose their formulation, change their packaging and make unlimited changes they want like fragrances, color, style, and ingredients.
Eye Serum vs. Eye Cream
Eye serum and eye cream are two standard private label eye care products. The eye serum has a consistency of liquid and gel, which serve as a lightweight solution for the eyes. Eye serum benefits address skin issues around the eyes like dark eye bags, crow's feet, and puffiness.
In contrast, eye cream is a specialized moisturizer that moisturizes the under area while reducing fine lines, dark under eyes, and wrinkles. Eye creams have a lower ratio of active chemicals to non-active compounds than eye serum.
The Advantages Of Private Label Eye Care
The eye region is the first to exhibit skin issues and aging signs. Some of these: wrinkles, puffiness, dark under the eyes, hollowness will start to show symptoms. Hence, products like serums, gels, and creams are ideal because of how fragile and prone to degradation the eye area is.
Here are some advantages of putting up a private label eye care:
You can create your eye care brand.
Consumers can get eye care from this company.
There is a lot of demand for eye care products, and profit margins are higher.
Common Ingredients For Private Label Eye Care
Choosing the best eye serum and best eye cream can be difficult with many options available. Consumers begin looking at the following best ingredients:
Coenzyme Q10 (CoQ10)
CoQ10 protects the eye skin area from UV rays and helps to prevent fine lines and wrinkles.
Hyaluronic Acid
Hyaluronic acid is a moisture-creating and maintaining substance ideal for dry under-eye areas. Under-eye cream with these ingredients helps with brightening and plumping.
Ceramides
Ceramides help boost the eye area skin's elasticity and hydration.
Retinol
Retinol is the best ingredient for wrinkles and the best eye cream for the 30s. It boosts collagen formation, decreases fine lines and wrinkles, and brightens the eye area.
Vitamin C, E, and K
These three vitamin combinations are potent ingredients for eye cream and eye serums. Vitamin C helps strengthen and generate a thicker eye skin barrier. Vitamin E is a powerful antioxidant that helps with protects the eye area from radicals and pollutants that cause skin loss and aging. Vitamin K helps decreased inflammation, anti-aging signs, and eye bags.
Peptides
Peptides aid in collagen formation, making them perfect for sagging skin and fine wrinkles.
Alpha Hydroxy Acids (AHAs)
AHAs help reduces skin issues like hyperpigmentation and dark circles. Some of the best AHA are glycolic acid, lactic acid, and mandelic acid.
Neuropeptides
A neuropeptide is an ingredient that helps promote collagen and elastin production, but they are friendlier on the dermis.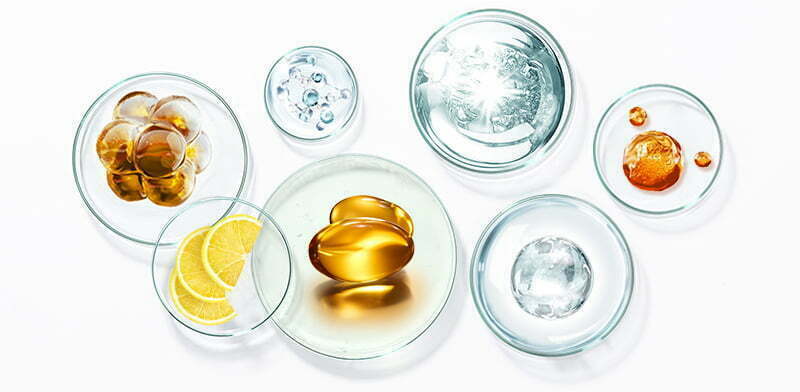 Private Label Eye Care Products From TY OEM Cosmetics
At TY OEM Cosmetics, we ensure that all our eye care products are jam-packed with active ingredients and the best formulation. Our private label products have varieties of ranges that will delight your customers.
Eye Serum
Eye serums have the purpose of nourishing the eye skin area. These have a lighter consistency than creams and target issues like fine wrinkles, puffiness, and dark circles. Some eye serums are also designed to moisturize and hydrate sensitive eye areas.
Eye Gel
Eye gels have a lightweight and watery consistency, usually made of non-oily substances. This gel helps with puffiness, dullness under the eye, and aged skin.
Eye Roller
Eye rollers are a tool that contains eye serum for dark circles, wrinkles, and fine lines. These active ingredients also reduced puffiness and other anti-aging signs.
Eye Jelly
Eye jelly has a water-based and gel-like consistency that helps moisturize, hydrate, and minimize skin eye area issues. It also helps with the appearance of fine lines, wrinkles, and eye bags without clogging or irritating the skin.
Retinol Eye Cream
The main ingredient for this eye cream is retinol. Retinol eye cream offers various benefits, including collagen formation and reducing dark eye circles. This eye cream also helps reduce the amount of melanin in the skin, making the eye area bright.
Eye Bag Cream
Best eye cream for dark circles and eye serum for dark circles will work to smoothen out the discoloration around the under-eye area. It can also reduce wrinkles, fine lines, and puffiness while stimulating glow and brightening.
Brightening Eye Cream
Brightening eye cream helps lessen the appearance of dark eye bags and helps to lighten them. This cream contains ingredients that boost collagen formation around the eyes and reduce skin issues.
Vitamin C Eye Cream
It is proven that using vitamin C eye creams can reduce the appearance of dark circles. It serves as a daily moisturizer that plumps the eye area and reduces wrinkles. It also fights free radicals and brightens the skin.
Private Label Eye Care Process
TY OEM Cosmetics has five processes for launching your private label line:
1.Request for private label skincare samples
We have extensive product lines of eye care products that you can choose from, starting with the best eye cream for dark circles to the best eye serum for wrinkles and the best eye cream for the 30s.
2.Formulation process
Each of our eye care ingredients is scientifically validated and sustainable. We have formulated numerous eye care products, and we can help you with yours as well.
3.Pickthe right products and packaging
You can choose our ready-made packaging that is fitted for your brand. However, we offer to create your unique name, branding, and packing once you have settled on your private label eye care products.
4.Arrange labels
You can choose to utilize our expert designers and layout artists to customize your labels. It includes designing your eye cream product's name, font, logo, and colors.
5.Received your order
Usually, the production of our skincare packaging takes around 25 to 35 days, depending on the customization you have. After that, mass production will take 7 to 15 days, and we will send them for shipment as soon as they are done.
Why Choose TY OEM Cosmetics?
When you work with TY OEM Cosmetics, you're dealing with an experienced manufacturer specializing in high-end skincare. We are versatile and has varieties of services from fully customizing your label, packaging options, capacity to add your specialty ingredient, and even adding fragrances based on your liking. We accept low MOQs, allowing small businesses to launch their own private label eye care and allowing them to scale up.
We can assist you with formulating and filling your products. We have our scientists, dermatologists, and skincare experts to develop high-quality products. Allow TY OEM Cosmetics to be your one-stop solution to make your private label eye care product come to life.