The private label baby care market is thriving. In fact, its market reached a value of USD 18.17 billion in 2020. This rate will also increase in the coming year between 2021 and 2028 with a CAGR of 4.3%. This market rapidly expands to premium, high-quality, organic products.
Private labeling is your best bet if you want to enter and sell products in line with this industry. This article will tackle all the ways of choosing private label baby care products. So, keep on reading!
What are private label baby care products?
Babies have delicate skin. However, they are prone to various environmental toxins that we must address. If not, it may cause allergies, skin sensitivities, redness, and respiratory issues.
Private label baby care products are among the area that helps address this issue. These products are developed naturally, plant-based, and free of risks. Some of the private label baby care products that babies needs and mother buys are:
Shampoos
Body Wash
Moisturizer
Diaper ointment
Baby lotion
Baby laundry detergent
As per the study by Coret, Suero, and Tierney, the baby's skin only well tolerates natural, well-formulated, and light baby products. At most, it should be derived from 95% natural ingredients. This percentage is a must, especially on products: body wash, baby shampoo, and baby lotion. Furthermore, 80% natural ingredient percentage is also tolerable.
What To Keep In Mind Before Choosing To Private Label Baby Care Products
It is a fact that starting a private label or any business venture needs research. You must equip yourself with the necessary knowledge to keep your business successful. That concept also applies to private label baby care products, requiring strict compliance and sensitivity.
Choose Products Specifically Designed For Babies
It is a must that you choose and work with manufacturers that are specifically designed products for babies. You'll often encounter manufacturers advertising private label baby care ideal for babies. In reality, they are not. The formulation is not gentle enough, not tested, and falsy labeled. You must spot the right products and work with a certified manufacturer.
Research the International Standards For Baby Products
Every country has strict standards for baby products. Before importing or selling for a specific country market, it is necessary to research the laws, regulations, and certifications needed. Certified manufacturers, like TY OEM, test their products, go through QC, and comply with GMP, European, and North American regulations. When you spot this, you are sure the products are safe and ready to be sold.
Must Use Natural and Organic Ingredients
Ingredients play a significant role in the formulation and effectiveness of the products. It is a must that your manufacturer uses safe and sustainable ingredients. You can ask for their ingredient lists to review them yourself. You can also request product ingredients, formulation, and effectiveness reports.
Choose Baby Products Free From Various Risks
As we have mentioned, babies' skin is susceptible. When their skin comes in contact with harsh chemicals, it might cause a reaction. Before you choose your products, it is a must that you do your research first. Most importantly, the risks and challenges you might face on the products.
Must be Dermatologically Approved
Dermatologists, even skin experts, need to have their go signals before they can sell baby care items. In the same way, consumer look for this kind of label when buying. If you want to build trust and reliability as a brand, ensure to comply with this.
Best Organic Baby Skin Care Products
You can start with a wide range of products when you choose private labels. Here are some of the options we have listed:
Baby Hair Care Products
Shampoo
Baby shampoo is a hair care product used to clean babies' hair. It cleanses dirs, removes oils and little particles, and eliminates contaminants. This shampoo has a gentle and organic formulation that is safe to use on infants and young kids.
Conditioner
Conditioner for babies makes their hair soft and straight. This product helps protect the scalp and the roots.
Baby Skin Care Products
Body Lotion
The baby lotion has the same purpose as the normal lotion. This lotion for babies is ideal for maintaining moisture on the skin. It also serves as a barrier to protect the skin.
Baby Cream
Baby cream also serves as a moisturizer on the body. It has a thick consistency, containing at least 50% cream.
Baby Oils
Baby oils have the purpose of keeping the skin soft and nourished. This product works by sealing the moisture on the skin leading to being more plump and healthy.
Baby Wash
Baby wash keeps the body clean and dirt free. It is gentle and effective that will not strip the skin barrier.
Baby Powder
Baby powder is used for babies to keep them fresh and free of rash. It will keep their skin soft, dry, and comfortable.
Baby Care Products
Baby Laundry Liquid
Laundry liquids that are mild and organic are ideal for babies' clothes. This product should be hypoallergic and contains natural ingredients that won't affect the baby's skin.
Fabric Softener
Fabric softeners may sometimes contain stringent chemicals and formulations. When you choose private label baby products such as fabric softeners, remember that they should be natural. At the same time, it should be hypoallergenic and free of dye and fragrance.
Diaper Rash Ointment
Diaper rash ointment's primary function is to prevent diaper rashes. This ointment forms a barrier that keeps the urine and poop from touching the skin.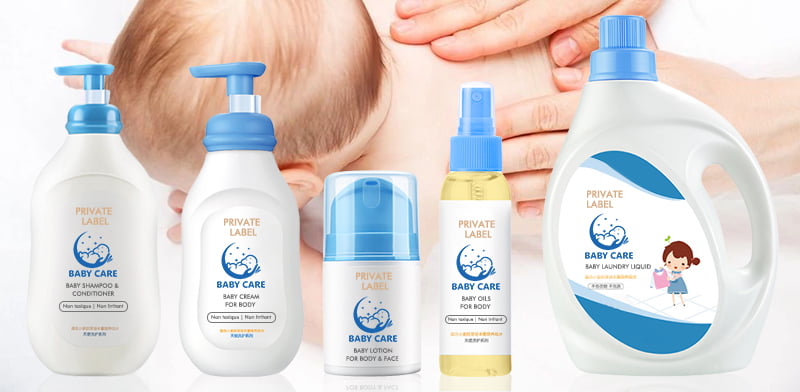 10 Ways of Choosing Private Label Baby Care Products
You can choose your private label baby care products in different ways, such as:
Natural Baby Skin Care Products
The first and foremost you need to note is the content of the baby products. Is it natural? Does it contain any red flag ingredients? Will it irritate and cause redness to the baby's skin? These questions will guide you in choosing which products is best and which are not.
Right Packaging and Labels
There should be proper packaging and labels on all baby care products. Since your market is for babies—or close to kids, there are specific rules you need to meet. As a skincare baby brand, you can be creative on the packaging. But, you need to set the right formula, sizes, etc. Your manufacturer also needs to ensure they put the correct labels, like cautions, warning signs, and how to use them.
Hypoallergenic
Most mothers are enticed to buy baby products when they spot the label "hypoallergenic." This term refers to the presence of proteins broken into smaller pieces. Because it's in smaller amounts, they will cause less reaction to the baby's skin. It also implies that the particular baby products are gentle and safe.
Paraben Free
One of the most harmful components in baby skin care formulation is paraben. Paraben disrupts the process of the mind. It must be avoided because of its side effects, for instance, affecting birth outcomes, disrupting hormones, etc.
Environmentally Friendly and Sustainable Ingredients
Ingredients do matter, not only in the formulation but also in your selling point. Since you are marketing for babies, it is a must that your ingredients list is organic, natural, and safe. You should also check with your manufacturer that these ingredients come from a trusted source. For instance, in TY OEM, we partner with only the best partners for our raw materials. We wouldn't put you or your customers at risk.
Is Clinically Tested and Proven Safe
Concerning safety, all private label baby products must undergo tests. These tests will testify that the products are safe and will not cause risk to babies. The baby products should also undergo a Quality Check. It will ensure that the product quality is above standard. You can make this happen by getting certifications and working with a trusted manufacturer.
Clean Formula
It is a must that you choose a formula that is clean and safe. Remember, your target is babies. Babies require to use products that are gentle and free of toxins. They are the most vulnerable when they come in contact with products that are not suitable for them. Your manufacturer should be aware of this. That's why TY OEM concentrates on making the best formulation for all skin types.
Should Have Additional Attributes
Another thing that entices consumers to buy products is their functionality. They will most likely grab products when they see labels such as "3-in-1" or added benefits. For instance, a baby powder can not only refreshen the skin but also helps smoothen it out. Because consumers see that they can get more when they buy a single product, this will be their best bet.
Suitable for All Baby Skin Types
Baby skin is sensitive because of their skin's thin layers. They must use products that are gentle, not harsh, and free of toxins. When you browse through baby care product selection, these qualities are among what you should look for.
Will Not Cause Any Side Effects
We have mentioned that the baby's skin is sensitive and still developing. That's why they are more prone to skin rashes, redness, irritation, etc. As a brand, you must ensure that your private label baby products are indeed safe. You should choose a manufacturer that will test the product. Plus, they should give you a report that certifies these side effects will be 99.9% less.
The Reasons Why Private Labelling With TY Cosmetics For Baby Products Is A Good Move
This 2022, entering a competitive market is challenging. That is true, especially in the skincare and cosmetic market. If you're worried your brand will not stand a chance, don't be! Maybe private labeling baby products can be your start. And TY Cosmetic can be your partner! Interested to know the reason why? See more below:
Customized Formulations
One of the proudest advantages of working with TY Cosmetic is its formulations. Our company has 8000+ formulations ready for processing. Among these numbers are formulations for baby products. We can offer something for business owners wanting unique formulas for their products.
Allows Freedom With Packages and Labels
There are limits when with packages and labels when you private label. But, in TY Cosmetic, we are open to creativity! We have ready-made packages and labels you can choose from. We can also customize the packaging and labels based on your liking. Simply send us the sample scratch, and we'll make it happen.
Excellent Selection of Products
Range and Exclusive—that describes TY Cosmetic's product. We offer a diverse range of products from face to body to hair. For each section, we also provide different kinds of products. For instance, baby care products include soap, shampoo, and more. You can start with one product, then expand your line continuously. That is possible when you work with us.
Guaranteed High-Profit Returns
As a manufacturer, we understand that not all can afford high initial costs. To ensure that we accommodate every client, we have two solutions. First, we offer low MOQ, starting at 1000 pcs. Second, we price our products at an affordable scale. You can price your products better and earn high profits for these reasons.
Brand Stability
TY Cosmetic is stable and consistent. We can also share these characteristics with our clients. As a manufacturer, we can offer them stable services and products. We can help them expand their lines and build profits. Rest assured that we will help with smooth functioning.
Wrapping Up
TY Cosmetics has a fantastic range of products and services. You can get affordable and quality private label baby products with us. If you are looking for the best private label manufacturer in China, we can be the one for you! Don't hesitate to contact us; we'll be in touch with you in no time.